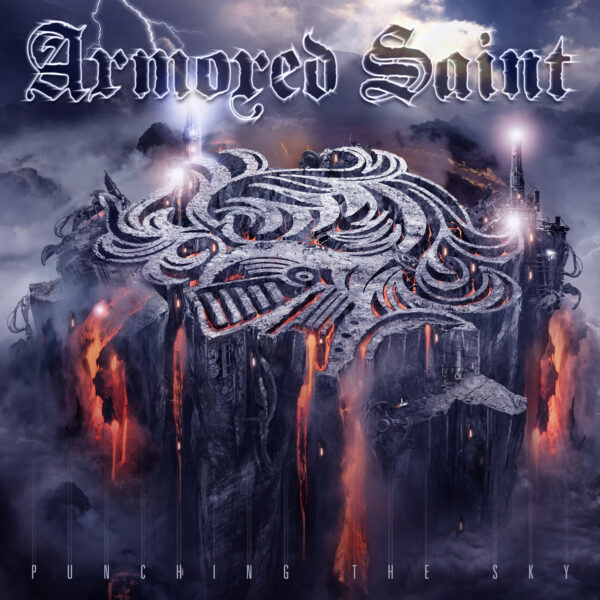 ARMORED SAINT
Titel: PUNCHING THE SKY
Label: METAL BLADE / SONY
Spieldauer: 53:39 Minuten
ARMORED SAINT sind alte Hasen. Man mag diesen Allgemeinplatz auslegen wie man will, entweder zum Vorteil oder Nachteil der Kalifornier. Legt man jedoch "Punching The Sky" als Maßstab an, gilt zu konstatieren, dass knapp 40 Jahre Erfahrung im Musikbusiness und die damit einhergehende Lebensreife John Bush, Joey Vera, Phil Sandoval, Jeff Duncan & Gonzo extrem gut zu Gesicht stehen. Schon der Newton zitierende und über sieben Minuten keine Sekunde Langeweile aufkommen lassende Opener "Standing On The Shoulder Of Giants" sorgt mit abgehangenem Songwriting und inspirierten Spitzen für Aufregung. Bei wem dieser Refrain nicht den Mitsingreflex auslöst, hat keinen Classic Metal im Blut! Und dann erst diese Gitarrenharmonien – göttlich!
Das folgende "End Of The Attention Span" wurde nicht umsonst als erste Single ausgewählt, denn die Grooves dieses Hits bekommen nur die Saints derart gekonnt hin. Danach spielt die Band ihre ganze Cleverness im Songwriting aus: das zunächst unscheinbare "Bubble" entpuppt sich bereits nach Durchgang Nummer drei als echter Grower, während das tribalesque beginnende "Do Wrong To None"  sich als topmoderne Riffschmiede entpuppt und "Lone Wolf" mit entspannten Bush-Vibes im Refrain überzeugt (wenn mir noch einmal einer erzählt, Anthrax seien mit Sonnenstudio-Belladonna besser…). "Missile To Gun" sollte jeden old school-80er Fan auch live flachföhnen, "Fly In The Ointment" ist trotz des textlich etwas durchwachsenen Einstiegs ein Arrangementwunder vor dem Herren.
Gegen Ende lassen es die Herren dann noch einmal experimentell krachen, wobei "Bark, No Bite" als einziger Filler des Albums durchgeht, bevor der Ruhepol "Unfair" in das düstere, diverse "Symbol Of Salvation"-Zutaten verkochende "Never You Fret" übergeht. Zu erwähnen wäre noch die voluminöse Top-Produktion, allein Veras Basssound ist ein absoluter Hochgenuss! "Punching The Sky" ist das beste aller vorstellbaren Alben einer Band, die in einen vollendeten Indian Summer steuert und dabei für komplette Begeisterung beim Rezensenten sorgt. Bestes Saint-Album seit "Symbol Of Salvation"!!!
Patrick Müller vergibt 9 von 10 Punkten