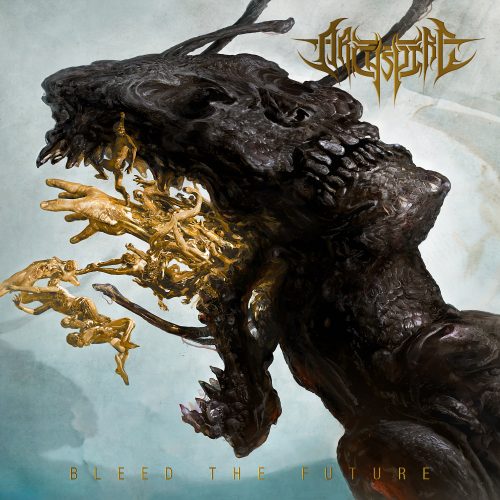 ARCHSPIRE
Titel: BLEED THE FUTURE
Label: SEASON OF MIST RECORDS
Spieldauer: 31:31 Minuten
Mit Album Nummer vier melden sich die kanadischen Tech-Deather ARCHSPIRE auf "Bleed the Future" zurück. Wie die beiden Vorgänger wird die Scheibe von den französischen Extremmetalspezialisten von Season of Mist Records veröffentlicht.
In gut 32 Minuten zeigen uns ARCHSPRIE ihre Interpretation des technischen und progressiven Death Metals, den Vordenkerbands wie Death, Atheist oder auch Necrophagist schon ersonnen hatten. Haben ARCHSPIRE diesem Genre überhaupt noch was beizutragen? Nun, diese Frage kann man durchaus immer stellen. Rein handwerklich betrachtet gibt es hier nichts auszusetzen. Hier sind fähige Musiker am Werk, die Achterbahnfahrten an den Saiteninstrumenten oder am Schlagzeug vollführen. Tempiwechsel, Breaks, Arpeggien, die fast maschinell klingen, Blastbeats, aber auch ruhige und spannungsvolle Passagen – alles kein Thema für die Kanadier. Auch der Gesang kann im Tempo mit der Musik mithalten, hektisch und dennoch akzentuiert. Natürlich leidet an der ein oder anderen Stelle die Songdienlichkeit und es fehlt immer wieder ein Stück Eingängigkeit. Aber wer hier Hits zum Mitpfeifen erwartet, hat das Genre nicht verstanden.
Als Anspieltipps empfehle ich für Interessierte 'Golden Mouth of Ruin', den Titeltrack sowie 'Reverie on the Onyx'.
Fazit: Ein durchaus gutklassiges Tech Death Album, das versucht auch Abwechslung einzubringen. Gelingt zwar nicht immer und manchmal ist es eben anstrengend. Wer  Origin, Obscura, Necrophagist oder auch Spawn of Possession mag, sollte ARCHSPIRE in seinen Hörkosmos mit aufnehmen und mal reinhören. 
Ingo Holzhäuser vergibt 7,5 von 10 Punkten