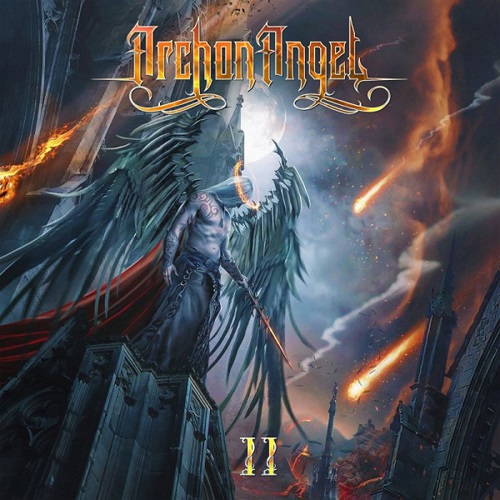 Spieldauer: 50:18 Minuten
VÖ: 14. April 2023
Die musikalischen Eckpfeiler von ARCHON ANGEL sind Sänger Zak Stevens (Circle II Circle, Savatage, Trans Siberian Orchestra) und Gitarrist/Produzent Aldo Lonobile (Secret Sphere, Edge of Forever), welche das schlicht "II" betitelte gemeinsame Zweitwerk vorlegen.
Die Frontiers Granden schreiben dem kraftstrotzenden Goldkehlchen einen Elferpack Power/Prog Metalsongs auf den Leib bzw. das Organ, von denen die meisten problemlos auch zur ehemaligen Hauptband des Vokalisten gepasst hätten.
Los geht es eher rau und sperrig mit der atmosphärischen Nummer `Wake Of Emptiness´ und `Avenging The Dragon´ mit seinem packenden Refrain bieten den gewohnten Pathos Metal mit theatralischen Vocals, wuchtig und ausladend, aber einige Durchläufe benötigend, um sich final mit ihnen anzufreunden.
Doch auch dem Savatage-affinen Fan, der hier noch die gewohnte Eingängigkeit ein wenig vermisst, kann im Folgenden mit den beiden grandiosen Auskopplungen `Fortress´ und `Afterburn´ sowie weiteren mitreißenden Stücken wie dem treibenden `Quicksand´ und dem hymnischen `One Last Reflection´ geholfen werden.
Man muss jedoch betonen, dass "II" insgesamt erstaunlich hart und erfreulich gitarrenlastig ausgefallen ist, während Stevens seine ganze stimmliche Klasse zeigt. Und auch dem unvermeidlichen Alessandro Del Vecchio gelingt es, mit seinen Key- und Pianoparts für die ein oder anderen beeindruckenden Akzente zu sorgen, so beispielsweise beim bereits erwähnten `Quicksand´, dem großartigen `Shattered´, aber vor allem beim abschließenden `Lake Of Fire´.
Fazit: sehr gute, stimmungsvolle und kurzweilige Platte mit starken Songs und einem fantastischen Sänger, die das Debüt "Fallen" für meine Begriffe weit hinter sich lässt.
Michael Gaspar vergibt 8,5 von 10 Punkten