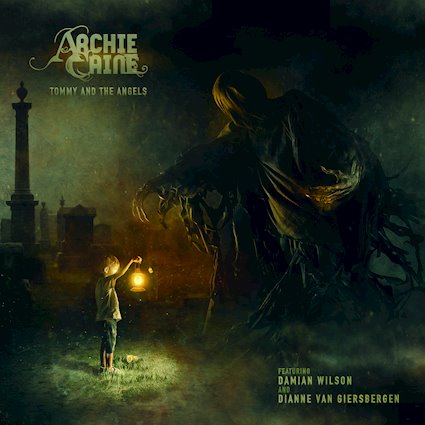 ARCHIE CAINE
Titel: TOMMY AND THE ANGELS
Spieldauer: 43:24 Minuten
VÖ: 22. April 2022
Der britische Musiker ARCHIE CAINE verbindet auf seinem Debüt "Tommy And The Angels" Symphonic Metal mit Softrock und Pop Appeal, was auch seine Einflüsse von Nightwish über Evanescence und Paramore bis hin zu Pop Acts wie My Chemical Romance und Panic! At The Disco verdeutlichen.
Mit Unterstützung seiner Co-Songwriter (und Freunde) Bo Wilde und Holly Nichol sowie den beiden Gastsänger:innen Dianne van Giersbergen (Ex-Libris, Ex-Xandria) und Damian Wilson (Headspace) entführt die Konzeptscheibe den Hörer in die Fantasiewelt eines verzweifelten Jungen, der durch die Begegnung mit einem Engel die schönen Seiten des Lebens wie Liebe, Freude und Sicherheit kennenlernt.
Der Sound ist dabei mal mehr mal weniger symphonisch, aber immer melodisch und manchmal gar poppig, wobei Caine ein Gespür und Talent für Storytelling, schöne Melodien und gute Songs beweist. Die Geschichte beginnt mit dem erzählenden Intro `TTGBITN`, dass in einen ersten, balladesken Monolog des Jungen übergeht, wie ihn später auch sein Klagelied (`Tommy´s Lament`) darstellt.
Es folgt der absolute "Hit" der Scheibe, die Vorabsingle `Faster`, ein treibender Power Metal Kracher mit packendem Refrain, dem später nur noch das ebenfalls großartige `Happy Ever After` in Sachen Eingängigkeit und Drive das Wasser reichen kann.
Was aber nicht heißen soll, die übrigen Songs seinen schlecht, ganz im Gegenteil. Auch die drei Duette mit weiblichen und männlichen Vocals sind nicht von schlechten Eltern. Während `Meeting The Angel` noch vom Zwiegespräch und Erzählen geprägt und kein "richtiger" Song ist, können das Meat Loaf-artige `Losing The Game` und der abschließende `Epilogue` vollends überzeugen.
Ebenso glänzen das symphonische `Eden`, das träumerische `Wonderland` und der modern groovende Kracher `Chains` und machen diese Debütscheibe eines talentierten Newcomers zu einer abwechslungsreichen, zeitgemäßen Angelegenheit mit starken Vocals und gutem Songwriting.
Michael Gaspar vergibt 8 von 10 Punkten