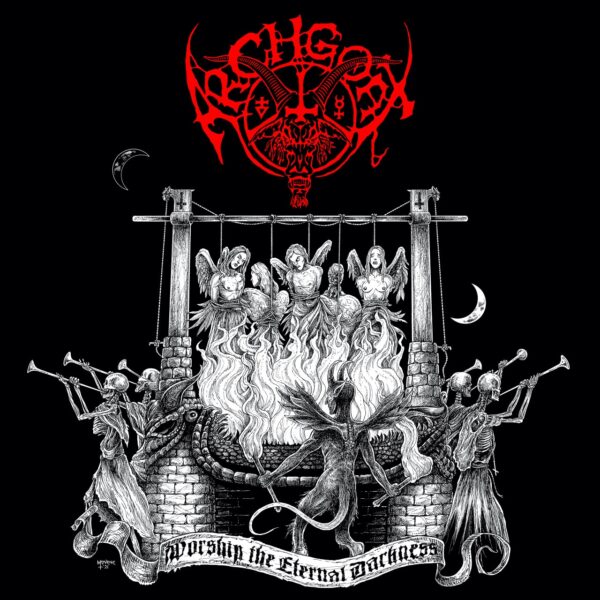 ARCHGOAT
Titel: WORSHIP THE ETERNAL DARKNESS
Spieldauer: 41:35 Minuten
Mit "Worship the Eternal Darkness" ist Album Nummer 5 der Altmeister ARCHGOAT aus Finnland erschienen. Altmeister ist dabei durchaus wortwörtlich zu verstehen, denn seit über 30 Jahren treibt das Trio aus dem Land der 1000 Seen sein blasphemisches Unwesen.
Musikalisch bleiben sich ARCHGOAT seit den Anfangstagen treu nach dem Motto: immer feste drauf! Black Metal, Death Metal, deutliche Zitate aus Grind- und Crustcore und D-Beat ('Rats pray God' – Brecher vorm Herrn!!!). Durch diesen Mix verfügt das Material sogar über etwas mehr Abwechslung als in der Vergangenheit. Auch die getragenen Passagen und langsamen Stampfer (zum Beispiel 'All christianity ends') sind ausgebaut worden. Das Gegurgel von Lord Angelslayer bleibt prägnantes Stilmittel neben dem teilweise infernalischen aber jederzeit gutklassigen Gehacke. Mit dem Abschlusssong 'Burial of Creation' wird hervorragend ein dunkler Spannungsbogen erzeugt, der mich auf vom Songaufbau und der damit verbundenen Dramatik an Inquisition erinnert. Klasse!
Nach gut 42 Minuten ARCHGOAT ist man quasi frisch gebügelt, gemangelt und überfahren in einem. Sauber und knochentrocken produziertes Geprügel kann vielleicht nicht jeder jeden Tag vertragen. Aber die Scheibe macht irgendwie richtig Spaß und ist somit eine starke Platte für die Vorweihnachtszeit und den Jahresendspurt.
Ingo Holzhäuser vergibt 8,5 von 10 Punkten