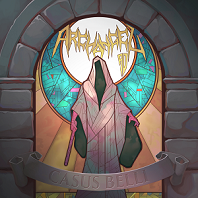 ARCHANGEL A. D.
Titel: CASUS BELLI
Spieldauer: 51:45 Minuten
Viel kann man über den Thrash Metal-Vierer aus Texas in den unendlichen Weiten des Webs nicht herausfinden. 2015 noch als Archangel gegründet und 2016 in ARCHANGEL A. D. umbenannt, bringen sie nun ihr im Eigenvertrieb erscheinendes Debüt-Album "Casus Belli" auf den Markt.
Stilistisch eifern sie dabei nach eigener Aussage den Big 4 nach und möchten deren Sound in die Moderne übertragen. Und tatsächlich vereinen Stücke wie der pfeilschnelle Opener 'Bet On Death' oder das ebenfalls flotte 'Blasphemer' intensives Riffing, schneidende Leads und dynamisch-kraftvolle Vocals zu packenden Thrash-Songs. Weitere Highlights sind der Titelsong, das überragende 'Beacons' und das feine 'Celestion' mit seinen harten Riffs, dem hypnotischen Chorus und einem herausragenden Solo.
Zwischendurch sorgen jedoch einige Stilbrüche und von der Grundausrichtung abweichende Sounds wahlweise für Abwechslung oder Verwirrung. So überrascht zunächst das rein instrumentale, sehr ruhige 'Pluto-s Lament' und das ebenfalls akustische und mit spanischem Text versehene 'Sangre De Las Montanas'. Später geht das schleppende 'Demonolith' in eine eher dunkel-doomige Richtung, während 'Door To The Moon' ein waschechter Blues-Song ist.
Sogar mir als Fan von Alben mit sehr unterschiedlichen Songs und Sounds ist diese stilistische, ja beinahe Zerrissenheit zu viel des Guten. Es fehlt eine gewisse musikalische Identität und der berühmte rote Faden. Zudem lenken die Wechsel von den guten Tracks ab und machen den Flow des ansonsten durchaus vielversprechenden Albums zunichte.
Michael Gaspar vergibt 6,5 von 10 Punkten