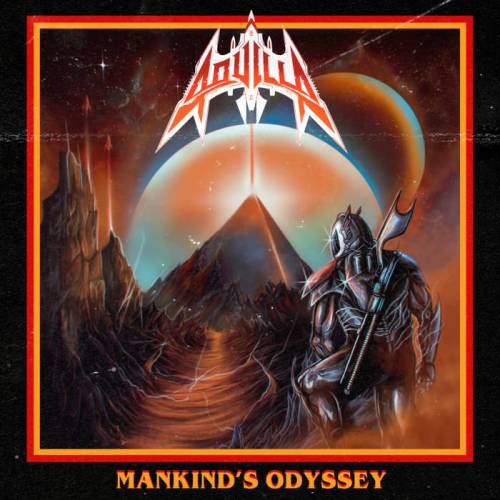 AQUILLA
Titel: MANKIND'S ODYSSEY
Spieldauer: 44:46 Minuten
VÖ: 22. März 2022
Etwas verspätet ist diese Scheibe in die heiligen Hallen unserer Redaktionsräume geflattert, aber das änder natürlich nichts an der präsentierten Mucke.
AQUILLA stammt aus Polen und zockt eine Mischung aus traditionellen Metal und Power Metal europäischer Prägung. Auffallend sind bei der Band die hohen Vocals und extremen High Pitched Screams von Fronter Blash Raven – übrigens nach erfolgter intensiver Recherche als natürlich typisch polnischer Name identifiziert -. Die Vocals dürften sicher nicht jedem Hörer gefallen, sie passen allerdings gut zur Mucke und sorgen für einen Wiedererkennungswert.
Musikalisch hervor heben möchte ich hier Tracks wie den nach einem hymnischen Einstieg ordentlich Gas gebenden 'Arrival', das ebenfalls schnelle, mit melodischen Voval-lines versehene 'The Awakening' und den fetten Banger 'Saviors Of The Universe'.
Das reicht zwar nicht zur Weltspitze, allerdings bietet das Album, welches sich textlich vornehmlich um das Weltall und die Menschheit dreht, ordentliche Metal Unterhaltung.
Ludwig Lücker vergibt 7 von 10 Punkten