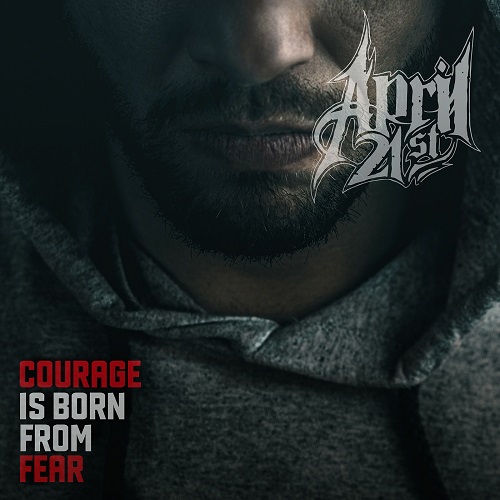 APRIL 21ST
Titel: COURAGE IS BORN FROM FEAR (EP)
Spieldauer: 17:02 Minuten
Den "Fokus auf Melodie, Geschwindigkeit und gigantische Heaviness" zu legen, versprechen uns die brasilianischen Metalcoreler APRIL 21ST für ihre neue EP "Courage Is Born From Fear". Und der Sound des Quartetts ist dann auch wirklich gekennzeichnet durch abwechslungsreiche, aufwändige Gitarrenarbeit, die rasend schnell und scheinbar mühelos durch verschachtelte Songstrukturen führt.
Ferner gibt es andauerndes Schnellfeuer von den Drums und anspruchsvolle Rhythmik und einzelne Stand-Alone-Parts des Basses. Lucas Akira's Vocals sind überwiegend durch rabiate Growls und viel Aggressivität gekennzeichnet.
Der Titel des instrumentalen, ruhigen, anderthalbminütigen Beginns 'Before The Storm' spricht für sich und bereitet den Hörer nur unzureichend auf das Folgende vor. 'Struggling To Break This Cycle' und 'Healing My Wounds' sind räudige Hassbatzen mit viel Drive, Speed und Aggressivität und ohne jede Verschnaufpause, aber auch mit den etwas eintönigen, wenig Abwechslung bietenden Growls des Fronters versehen.
Anders bei 'Stand Up And Scream', wo es etwas melodischer wird und ein cleaner Refrain-Part sowie ein langes Solo für Abwechslung und mehr Eingängigkeit sorgen. Fast so gut gefällt das abschließende 'Decision', wo zu Blast Beats und Energie noch enorm viel Groove, einige Gangshouts und interessante Bass-Läufe hinzutreten.
Insgesamt siebzehn Minuten eines Sounds auf extrem hohem Aggressions-, Emotions- und Energielevel, der in Albumlänge mehr Abwechslung sowie Kreativität bieten müsste und dessen genannte facettenreicheren Momente am besten zu gefallen wissen.
Michael Gaspar vergibt 6,5 von 10 Punkten