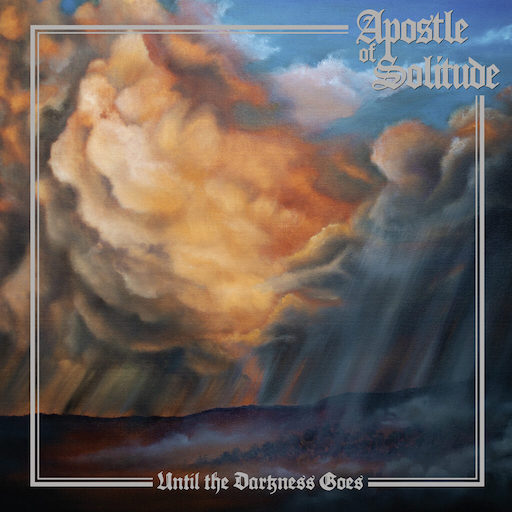 APOSTLE OF SOLITUDE
Titel: UNTIL THE DARKNESS GOES
Spieldauer: 36:34 Minuten
APOSTLE OF SOLITUDE gehören eigentlich schon immer eher zur zweiten Doom-Garde. Das ist keinesfalls despektierlich gemeint, aber weder die Alben der Amis noch ihre Liveshows konnten bis hierher wirklich Begeisterungsstürme auslösen. Der berühmte Funke wollte einfach nicht überspringen. Beim nunmehr fünften Longplayer des Quartetts aus Indiana bahnbrechende Veränderungen zu erwarten, erscheint utopisch. Gleichwohl vermitteln die sechs Kompositionen auf "Until The Darkness Goes" eine dermaßen ehrliche Traurigkeit, die dem Rezipienten ein ums andere Mal einen Kloß im Hals wachsen lässt.
Besonders die beiden Siebenminüter 'Apathy In Isolation' und 'Deeper Than The Oceans' sind mit solch wehklagenden Gitarrenharmonien und elegischen Gesangslinien ausgestattet, dass einem Pipi in die Augen schießt. Wenn man weiß, was die Band in den letzten beiden Jahren durchgemacht hat, erscheint dieser Weltschmerz durchaus verständlich, hat man doch enge Familienmitglieder durch Corona verloren und war zuletzt sogar auf der US-Tour mit The Obsessed und The Skull, bei der etliche Musiker an Covid erkrankten. Am Ende erlag Eric Wagner (The Skull, ex-Trouble) den Folgen dieser Erkrankung.
Irgendwie ist es der Band gelungen, all diese Negativerlebnisse in diesem Album zu kanalisieren und in Musik gewordene Tränen umzuwandeln. Das wunderschön melancholische Coverartwork der überaus talentierten Künstlerin WÆIK setzt diese Grundstimmung visuell perfekt um.
Alex Fähnrich vergibt 8 von 10 Punkten