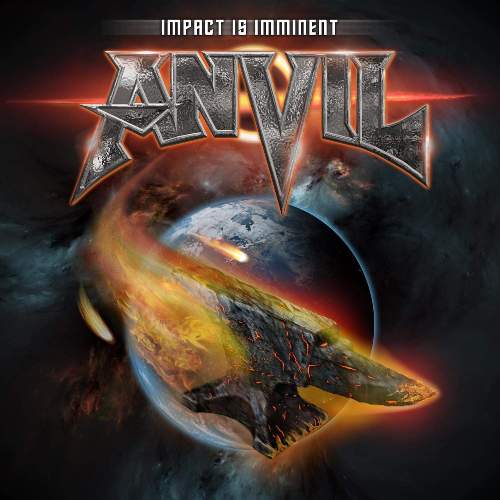 ANVIL
Titel: IMPACT IS IMMINENT
Spieldauer: 49:50 Minuten
VÖ: 20. Mai 2022
ANVIL ist ANVIL….daran gibt es auch auf ihrem mittlerweile neunzehnten Studioalbum nichts zu deuteln.
Der Stil der Kanadier ist bekannt und wird beibehalten. Dies ist auch ihr gutes Recht, denn Lips und Robb Reiner stehen wie immer zu ihrer Band, ihrem Stil und ihrer authentischen Mucke.
Zwar gibt es auch bei ANVIL Schwankungen, aber seien wir doch mal ehrlich: Die Herren haben in den einundvierzig Jahren – die drei Jahre als Lips mal nicht eingerechnet – als ANVIL keinen wirklichen Stinker heraus gehauen und dies können auch von den größeren Bands nicht alle behaupten.
"Impact Is Imminent" gefällt mir einen Tacken besser als die letzten ein, zwei Scheiben. Vor allem wenn ANVIL ordentlich Gas geben wie bei 'Ghost Shadow', 'Fire Rain', 'Someone To Hate'  oder 'Bad Side Of Town'.
Aber auch die typisch anvil'schen Mid Tempo Stampfer wie 'Take A Lesson', 'Wizard's Wand' oder die hymnisch schleppenden 'Lockdown' und 'Shockwave' sind geile Banger, wie man sie von der Band kennt und liebt.
Die für ANVIL Verhältnisse eher experimentellen Instrumental Tracks 'Teabag' und 'Gomez' hätten zwar für meinen Geschmack nicht unbedingt sein müssen, schaden dem insgesamt gutklassigen Album aber auch keineswegs.
Um auf den Einstieg zurück zu kommen…. ANVIL ist ANVIL und das ist auch gut so!
Ludwig Lücker vergibt 8,5 von 10 Punkten