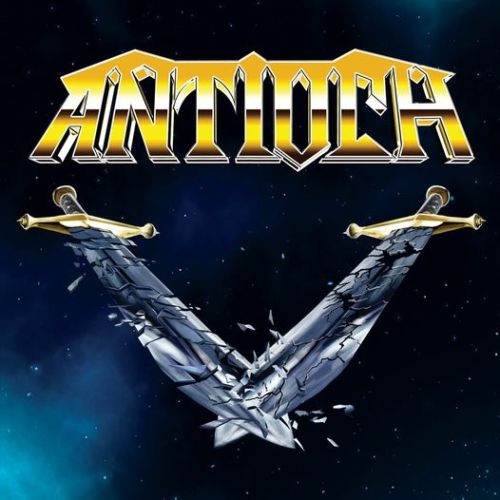 Spieldauer: 26:49 Minuten
Überbordene Kreativität was Albumtitel anbelangt kann man der kanadischen Band ANTIOCH nun wirklich nicht vorwerfen, haben diese ihre fünfte Veröffentlichung einfach ebenso betitelt; allerdings visuell effektvoll in Säbeln drapiert.
Was man der Truppe allerdings attestieren kann, ist gut gezockter traditioneller Metal, was bei kanadischen Bands überraschend häufig der Fall ist. Die fünf Tracks, die lobenswerter Weise auch als EP verkauft werden, bieten einiges an Abwechslung.
Dies beginnt schon mit dem schnellen Opener  'Hang The Eagle', der beinahe schon in Power-Thrash Bereiche vordringt und mit mitreißenden Gang Shouts versehen wurde. Das folgende groovige 'On A Ledge' ist Rock'n Roll mäßig und hymnisch, während der dritte Track – nach meinem Geschmack der beste Song des Albums – 'A Facade At The Third Castle' ein hymnischer Mid Tempo Groover ist, der zum Schluß hin anzieht. Mit über sieben Minuten ist dies auch der längste Track der EP. Die folgenden 'Demon Wick' ein Mid Tempo Groover und das an achtziger Jahre Stadion Metal angelehnte 'Cloven Hooves' halten das Niveau nicht ganz, sind aber auch alles andere als schlecht.
Die rauen Vocals von Nicholas Allaire, der aber auch kreischen kann, wenn dies nötig ist, passen zudem gut ins Gesamtbild. Bin gespannt, ob ANTIOCH das Niveau auch über die lange Distanz halten können.
Ludwig Lücker vergibt 8 von 10 Punkten