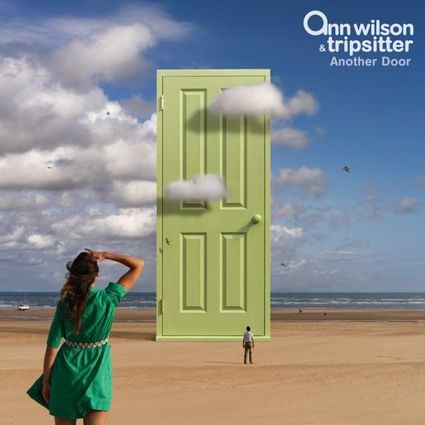 ANN WILSON & TRIPSITTER
Titel: ANOTHER DOOR
Spieldauer: 47:27 Minuten
VÖ: 13. Oktober 2023
Es gibt Musiker und Bands, die verbindet man mit DEM einen großen Hit. Im Falle von ANN WILSON handelt es sich natürlich um ´Barracuda´, der sie und ihre Band Heart bekannt gemacht hat. Es gab von Heart ja einige große Hits mehr, aber dieser eine ist Fluch und Segen.
So mag diese Kollaboration ein Versuch sein, diese Bürde abzuwerfen. TRIPSITTER ist ihre neue aktuelle Band, ihr neues Zuhause. Ihre Begleitmusiker sind Tony Lucido (Bass), Ryan Wariner (Gitarren), Sean T. Lane (Schlagzeug) und Paul Moak (Gitarren und Keyboards), und Tom Bukovac (Gitarren). Zusammen mit ihren Musikern hat sie alle diese Lieder geschrieben. Und es scheint tatsächlich wie eine Befreiung. Sie hat bisher mehr als 35 Millionen Tonträger verkauft. In die Rock and Roll Hall of Fame wurde sie ebenfalls aufgenommen. Sie durfte Duette singen mit Disturbed-Frontmann David Draiman und Dolly Parton. Nun geht sie durch eine andere Tür.
Für mich ein guter Schritt. Allein im Vergleich etwa mit ´The Road Home´ Hearts Live-Album von 1995. Ann klingt auf dem aktuellen Dreher sicher reifer und älter. Aber sie klingt auch gelöster und lockerer. Entspannter. Was aber nicht gegen erwähntes Live-Dokument spricht, schließlich ist da auch ´Barracuda´ zu hören.
I was born inside a hurricane
Lightning, thunder, wind, and rain
Like a child, I knew no other way
Tossed and torn I came
Passend zu den sehr persönlichen Texten ist die intime Art von Rockmusik, die den Ohren schmeichelt. Frei von Kitsch, doch voller Wärme und Gefühl. Auf der anderen Seite darf ein ´Rain In Hell´ auch verhältnismäßig harsch klingen. Aber stammt Ann nicht auch aus Seattle, der Heimat der Grunge? Mit dem ich, das sei verraten, wenig anfangen konnte und kann. Aber auch der Pop ist nahe, etwa in ´Stranger In A Strange Land´.  Für den Songtitel gibt es fast ein Extralob, genau wie für die proggigen Breaks. ´Waiting For Magic´ ist dann ein recht flotter Alternative Rocker.
Wer durch diese Tür, die ´Another Door´ geht, findet eine Ann Wilson, die ein neues Zuhause gefunden hat. Eines, das ihr nochmals alle Möglichkeiten gibt. Der Hörer muss nicht mehr auf magische Momente warten, ANN WILSON & TRIPSITTER haben sie erzeugt und für uns festgehalten.
Time moved on, I was a traveler
Searching all the world for more
As my dreams were all unraveling
There I found another door
Mario Wolski vergibt 8,5 von 10 Punkten