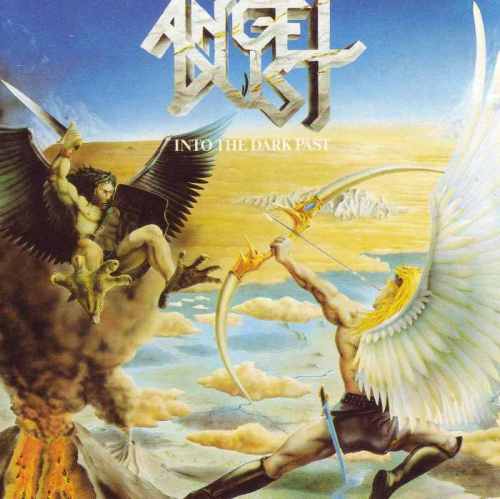 ANGEL DUST
Titel: INTO THE DARK PAST
Spieldauer: 39:10 Minuten
Jeder der sich auch nur annähernd mit der achtziger Jahre Metal Szene im Ruhrgebiet beschäftigt hat oder wie ich selbst die Gnade hatte diese mit zu erleben, sollte definitiv die Dortmunder Truppe ANGEL DUST kennen.
High Roller Records bringt jetzt sowohl als CD als auch in mehreren Vinyl Varianten das Erstwerk der Jungs namens "Into The Dark Past" erneut heraus. Auf dieser Scheibe präsentieren die Kohlenpott Jungs rauen, ehrlichen Speed Metal. Die größtenteils melodischen Gitarren sorgen für jede Menge coole Riffs und die Rhythmustruppe peitscht die Tracks nach vorne. Nach einem Intro folgen dann sieben im typischen Soundgewand der Achtziger daher kommende Tracks für Aufsehen. Egal ob die Nadel – wahlweise auch der Laser – bei 'I'll Come Back', 'Legions Of Destruction', 'Gambler', 'Fighter's Return', 'Atomic Roar', 'Victims Of Madness' oder 'Marching For Revenge' aufsetzt, die Klasse der Mucke ist durchgehend sehr hoch.
Nach dieser Scheibe erfolgte leider ein Wechsel und Romme Keyser musste gehen und S.L. Coe – auch Shelko genannt – übernahm das Mikro und auch an den Gitarren wurde gewechselt. Die Mucke wurde zwar differenzierter, vielleicht auch anspruchsvoller, aber die ungestüme Energie des Erstlings wurde nicht mehr erreicht.
Wer diesen noch nicht sein eigen nennt und auf deutschen Speed Metal abfährt, sollte unbedingt zu greifen. Ein Klassiker, nuff said. P.S. Bonusmaterial sucht man allerdings vergebens…..
Ludwig Lücker vergibt 9 von 10 Punkten