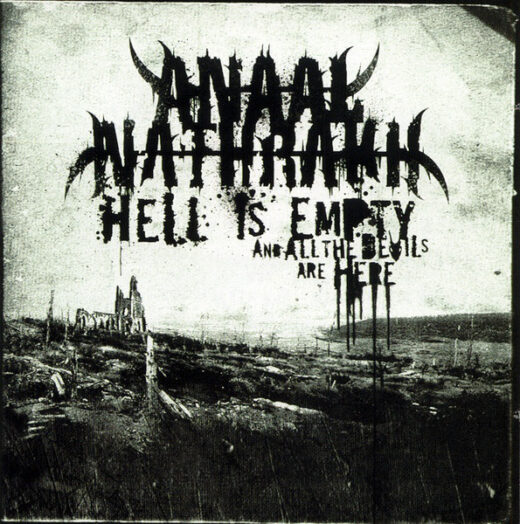 ANAAL NATHRAKH
Titel: HELL IS EMPTY, AND ALL THE DEVILS ARE HERE
Label: METAL BLADE RECORDS
Spieldauer: 35:52 Minuten
Dieser Tage veröffentlicht Metal Blade einige der alten Scheiben der britischen Extreme Metaltruppe ANAAL NATHRAKH neu. Im Portfolio der Wiederauflagen stehen das Demo "Total Fucking Necro" (1999), das formidable Black metallische Debüt "The Codex Necro" (2001), die EP "When Fire Rains down from the sky, Mankind will reap as it has sown" (2003) sowie die hier besprochene "Hell is empty, and all the devils are here", die ursprünglich 2007 über Shane Emburys (Napalm Death) Label FETO Records veröffentlicht wurde.
Die Scheibe ist in der Diskographie der Nachfolger des großartigen "Eschaton" Albums. Und ANAAL NATHRAKH sind dem dort eingeschlagenen Sound- und Aufbau ihrer Songs treu geblieben. Unbändige Blastmassaker und Hochgeschwindigkeitspassagen wechseln mit Gekotze der Vocals nebst packenden Refrains in Klargesang. Dave Hunt hat auch hier sein unheimliches breites Stimmvolumen offenbart. Eigentlich unglaublich was der Gute da so fabriziert.
ber die ganze Scheibe ist nahezu perfekt eingetrommelt und besticht durch präzise und auf den Punkt gespielte Tracks. Grind, Black, Industrial und Death nebst hochmelodischen Refrains bestimmen das Soundbild. Sicher kann das auch auf Dauer eintönig wirken und dennoch steht die Scheibe dem Vorgänger in wenig nach. Tracks wie 'Screaming of the Unborn' oder 'The Final Absolution' hauen so ziemlich alles weg.
Ingo Holzhäuser vergibt 8,5 von 10 Punkten