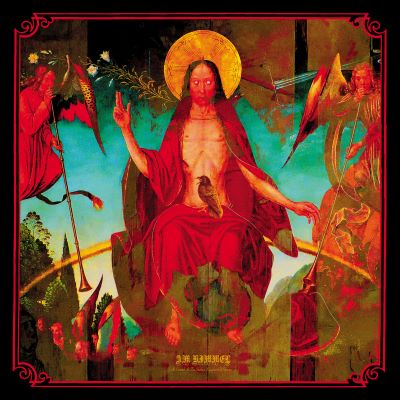 AM HIMMEL
Titel: AS ETERNAL AS THE STARLESS KINGDOM OF SORROW
Spieldauer: 37:08 Minuten
VÖ: 30. Juni 2022
Zugegeben, seit dem 24. Februar 2022 und den kryptischen Drohgebärden Wladimir Putins habe ich mir schon so dass ein oder andere Mal Gedanken zum bevorstehenden Ende gemacht. Wenn die russischen Atomraketen nur etwas über 200 Sekunden brauchen, um in Deutschland einzuschlagen, fange ich nicht mehr an mir Gedanken über Bunker oder sonstige Sicherheitseinrichtungen zu machen. Das Ende naht viel schneller, als man in dem Augenblick Entscheidungen zu treffen imstande ist. Und auch wenn, was soll es bringen, wenn die Erde verseucht ist.
Nicht, dass ich darauf gewartet hätte, aber die Niederländer AM HIMMEL haben für diese apokalyptischen Gedankenspiele das passende Tonmaterial kreiert. Was sie selbst als kirchlichen Albtraum bezeichnen, ist eine prägnant-düstere Doomkeule aus rauem Black Metal und unheilvoll geschwängerten Synthie-Klängen, die den gerade eh schon verdunkelten Himmel noch dunkler erscheinen lassen.
"As Eternal As The Starless Kingdom Of Sorrow" hat die Kraft und vermag die Stimmung zu beeinflussen, die uns unaufhörlich die Apokalypse in die Hirnwindungen presst. Die Wall of Doom lässt keinen Zweifel, dass die Hoffnung gestorben ist und das Ende naht. Die musikalischen Nuancen sind filigran und wohl gewollt rudimentär ausgeprägt. AM HIMMEL verkörpern die Endzeitstimmung.
Robert vergibt 6 von 10 Punkten