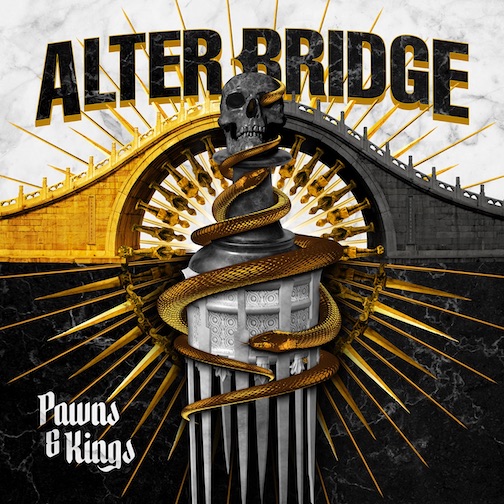 ALTER BRIDGE
Titel: PAWNS & KINGS
Spieldauer: 53:37 Minuten
VÖ: 14. Oktober 2022
So richtig wollen ALTER BRIDGE auch und besonders anno 2022 in keine stilistisch eindeutige Schublade passen. Ihr von den bekannt mächtigen Gitarrenriffs und unverkennbaren Vocals gekennzeichnete Sound ist dabei auf magische Weise sowohl fürs Stadion geeignet als auch radiotauglich als auch besonders im Falle der neuen Scheibe "Pawns & Kings" in großen Teilen hart und metallisch.
Bei den beiden Sängern und Gitarristen Myles Kennedy (Slash feat. Myles Kennedy & The Conspirators) und Mark Tremonti (ex-Creed) sowie Brian Marshall (Bass) und Drummer Scott Phillips weiß man eben doch genau, was man bekommt und erwarten darf und muss.
Und das ist druckvoller, treibender Rock/Metal mit dem charakteristischen Tremonti Riffing und den einzigartigen Kennedy Vocals sowie packende, qualitativ durchweg gutklassige Songs.
Das machen der fette Opener `This Is War´, die pulsierende Vorabauskopplung `Silver Tongue´ und das hart-eingängige `Holiday´ überdeutlich. Und nicht nur der im Duett mit Tremonti gesungene Kracher `Stay´ sorgt für Abwechslung, auch zwei Longtracks wandeln auf etwas ungewohnten Pfaden.
Das siebeneinhalbminütige `Sin After Sin´ und die sogar noch etwas länger ausgefallene `Fable Of The Silent Son´ überraschen und beeindrucken mit spannendem, komplexen Aufbau, dramatischen Melodiebögen und beinahe progressiven Strukturen.
Da können einige der "simpleren" Tracks wie die wenig packende (Power-)Ballade `Season Of Promise´ und das zwar eingängige, aber doch etwas gewöhnliche `Last Man Standing´ So bereitet man sich gewissermaßen die Konkurrenz im eigenen Hause, den Feind im eigenen Bett. Doch würde man nur noch auf Nummer sicher gehen, würde man sicherlich dies der Band zum Vorwurf machen.
Denn die Gleichförmigkeit und Ähnlichkeit der einzelnen Stücke kann natürlich schon zum Verhängnis werden, momentan überwiegen aber Trademarks wie der hohe Wiedererkennungsfaktor und die gleichbleibend fantastische Qualität des Dargebotenen noch deutlich.
Und mit dem starken, schnellen, mich an Billy Talent erinnernden Titelsong gelingt dann auch noch ein mehr als versöhnlicher Abschluss einer starken Scheibe mit kleinen Wacklern, sofern dieser denn überhaupt erforderlich war.
Michael Gaspar vergibt 8 von 10 Punkten