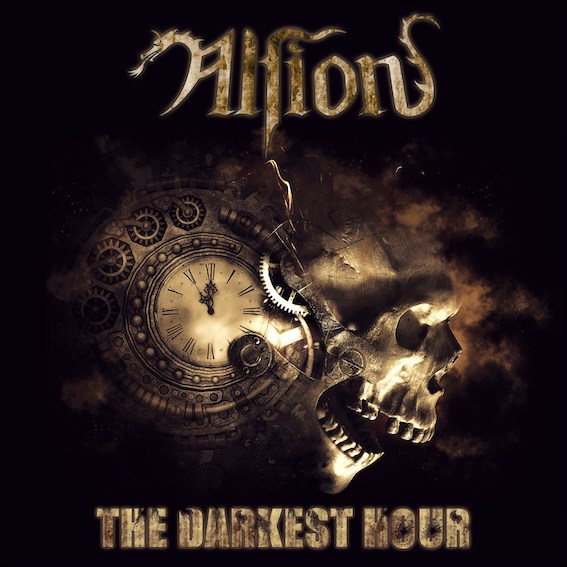 ALSION
Titel: THE DARKEST HOUR
Spieldauer: 42:26 Minuten
Um diese Formation ranken sich die mysteriösesten Geschichten: Stimmt es, dass Gitarrist und Bandleader Ingo Kolb liebend gerne bei Stormwitch anheuern würde? Ist Drummer Tobias Schwenk wirklich der größte Maiden-Fans unter der Sonne? Und hat Frontmann Thomas Fischer tatsächlich auf eine neue Ledercouch verzichtet, um einen Wurf bosnischer Streunerwelpen zu retten? Zumindest die letzte Frage lässt sich eindeutig mit "ja" beantworten und so weiß man, mit was für Verrückten man es hier zu tun hat.
Über 20 Jahre sind ins Land gegangen, seit ALSION (oder Alfons, wie man sich selbstironisch auf Grund des unleserlichen Bandlogos nennt)  ihren ersten Longplayer "A Kingdom Beyond…" veröffentlichten und eigentlich hatte man vorletztes Jahr seinen Bühnenabschied bekannt gegeben. Doch unverhofft kommt bekanntlich oft und so erscheint mit "The Darkest Hour" heuer das vierte Album der Heidenheimer. Der Titel passt wohl perfekt zum momentanen Zeitgeist mitten in einer nicht enden wollenden Pandemie.
Jedoch haben wir es hier keineswegs mit einem weiteren Abgesang auf die Menschheit zu tun. Vielmehr vermitteln ALSION stets eine positive Grundatmosphäre, was einerseits auf ihre musikalische Grundausrichtung (typisch teutonischer Power Metal) zurückzuführen ist und andererseits an den optimisch-lebensbejahenden Texten (Beispiel aus dem Titelstück: "Even in the darkest hour you stood by side, helped me to stay on my way…") liegt.
Freilich erfindet das Quintett das Rad nicht neu und orientiert sich an Genrevorbildern wie Brainstorm oder Gravestone, gleichwohl merkt man jedem Ton an, mit wieviel Herzblut die Jungs bei der Sache sind. Dasselbe gilt für die akustische und optische Gestaltung dieser CD, die vor allem in den Händen von Ingo lag. An ihn wendet Ihr Euch auch am besten, wenn Ihr den Silberling käuflich erwerben wollt: ingo.kolb@alsion.de.
Morgen, am Donnerstag, den 22. April um 20 Uhr, findet auf Rasenradio Leipzig die Release Show statt und Ihr könnt vorab in "The Darkest Hour" reinhören. Neben typischen Up-Temponummern wie 'Friendly Fire' oder 'Dark Passenger' werden dann hoffentlich auch epische Nummern wie 'Victims Of War' oder 'Eternal Sky' zum Zuge kommen. Wer auf ehrliche Mucke gespielt von gestandenen Mannsbildern steht, sollte ALSION unbedingt anchecken.
Alex Fähnrich vergibt 7 von 10 Punkten