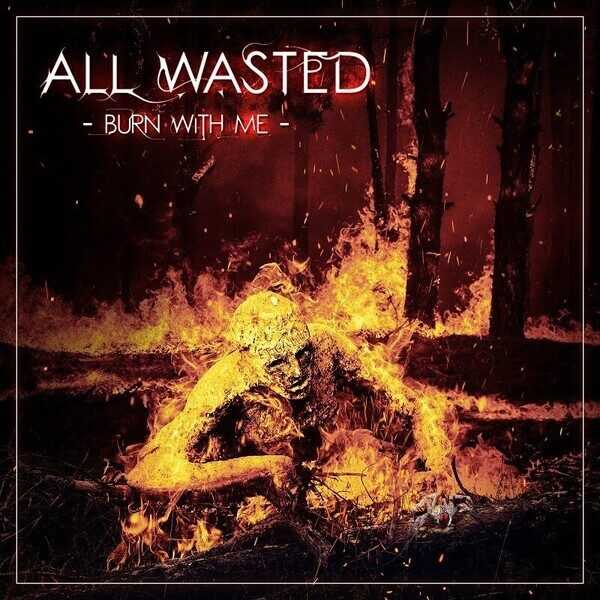 ALL WASTED
Titel: BURN WITH ME
Spieldauer: 46:37 Minuten
ALL WASTED sind Sänger Patrik Johansson (Ruined Soul, Fraction of Chaos), die Gitarristen Emil Sjöstrand und Eric Rydén, Bassist Jimmy Malmenlid (Ex-Last Kingdom) sowie Drummer Håkan Strind. "Burn With Me", das erste Album der Schweden, ist im Eigenvertrieb bereits im Februar 2021 erschienen, bevor es Anfang Juni auf allen digitalen Plattformen (wieder)veröffentlicht wurde. Ab 23.07. werden dann auch physische Tonträger erhältlich sein.
Der Vierer fabriziert unterhaltsamen, mitreißenden Death'n'Roll. Die Vocals reichen dabei von einer heiser-krächzenden, an ältere In Flames oder Soilwork (ohne die cleanen Teile) erinnernden Variante bis hin zu aggressiven Thrash- und/oder gar Hardcore-artigen Parts. Die Instrumentalfraktion stellt den Sound auf ein solides Fundament, kann aber auch durch melodische Leads der beiden Gitarren überzeugen, die fast an die Amott-Brüder heranreichen.
Hinzu kommen bei Tracks wie dem grandiosen Opener 'Passion Of Crime' und dem ebenfalls geilen 'Towards The End' trotz aller Härte und Aggressivität gute, fast schon eingängige Refrains. Weitere Anspieltipps sind neben dem ebenfalls gelungenen Titelsong das schnelle 'I Am The Pain', das mächtige, kraftvolle 'Out Of This Grave' und das herrlich rotzig-dreckige 'Rotten To The Core'.
Insgesamt eine richtig geile Scheibe in einem eigentlich nicht von mir bevorzugten Genre, die ich deutlich frischer und abwechslungsreicher finde und die mir daher deutlich besser gefällt als beispielsweise das Hiraes-Debüt oder die letzte Debauchery-Scheibe.
Michael Gaspar vergibt 8 von 10 Punkten