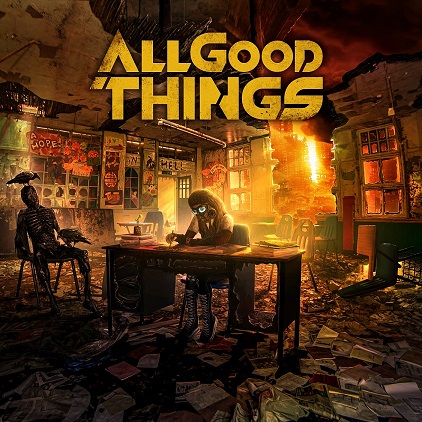 ALL GOOD THINGS
Titel: A HOPE IN HELL
Label: BETTER NOISE RECORDS/SONY MUSIC
Spieldauer: 58:10 Minuten
Unter dem selbst erdachten Label "Battle Rock" fabriziert das kalifornische Quintett ALL GOOD THINGS kraftvollen, treibenden, stadiontauglichen Alternative Metal. Ursprünglich als Kollektiv zusammengekommen, um Songs für TV-Trailer, große Sportevents und Videospiele zu schreiben, erscheint nun das Debüt-Album "A Hope In Hell". Neben den vielen Fans, die sich Studio-Alben und Live-Auftritte des Fünfers wünschten, wird bei dieser Entscheidung sicherlich auch das ein oder andere Business-Interesse eine Rolle gespielt haben
Der Sound ist immer fett, energiegeladen und geht nach vorne, während die kämpferischen Lyrics der beiden Sänger entsprechend von Wettkampf, vom Nicht-Aufgeben und von Ruhm und Ehre des Siegers handeln. So kann man sich motivierende Hymnen wie 'Undefeated' und 'Lights Out' als perfekte Einlaufmusik für große Box- oder Wrestling-Events bestens vorstellen.
Eine weitere Nuance im wuchtigen Sound ist der immer wieder eingesetzte Sprechgesang. Unter anderem wurde der bereits mit über 100 Millionen Streams ausgezeichnete Track 'For The Glory' neu aufgenommen und mit Raps der beiden Hollywood Undead-Mitglieder Johnny 3 Tears und Charlie Scene veredelt. Weitere Gastauftritte haben der US-Rapper Hyro The Hero ('Do It Now') und Escape The Fate-Frontmann Craigg Mabbitt bei 'The Comeback', der perfekten Aufmunterung zum Neuanfang für alle Geschlagenen, Gescheiterten und vermeintlichen Underdogs.
Die etwas heftigeren, dennoch eingängigen Tracks wie 'Hold On' gleich zu Beginn, das harte 'Four Letter Words' oder der Titelsong erinnern an den ebenfalls arena-tauglichen Metal(core) von Bands wie Bring Me The Horizon oder Architects. Der Hauptvergleich, der mir bei eher softeren, fast poppigen Hymnen wie 'Sirens' oder 'Machines', auch wegen der teilweisen Ähnlichkeit der Vocals, immer wieder durch den Kopf schwirrt und ja auch wahrlich keine schlechte Referenz darstellt, ist die des Arena-Rocks von Jared Leto und seinen 30 Seconds To Mars.
"A Hope in Hell" bietet dreizehn kraftstrotzende, moderne Tracks, mit denen ALL GOOD THINGS zeigen wie zeitgemäßer Arena-Rock anno 2021 klingen kann und ihr Werdegang zeigt letztlich auch einen ungewöhnlichen Weg dafür auf, wie im Internet-Zeitalter durchs TV und im Internet erfolgreiche Gruppe, zum ersehnten Plattendeal gelangen kann.
Michael Gaspar vergibt 7 von 10 Punkten