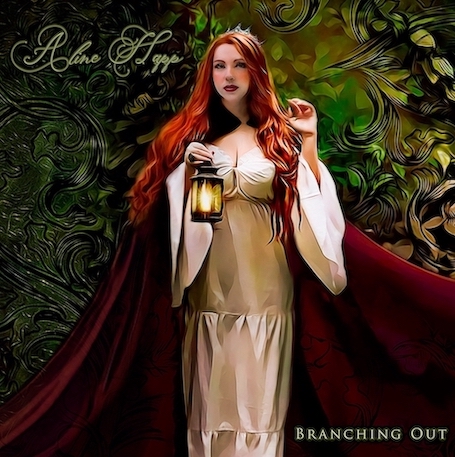 ALINE HAPP
Titel: BRANCHING OUT
Label: INDEPENDENT RELEASE
Spieldauer: 59:00 Minuten
VÖ: 31. März 2023
Nun ist es also so weit, ALINE HAPP, Frontfrau der Symphonic Metal Band Lyria veröffentlicht ihr, mithilfe von Crowdfunding finanziertes und fast vollständig in Eigenarbeit eingespieltes und produziertes, erstes Soloalbum "Branching Out". Im Vorfeld hat die Brasilianerin bereits ihre zahlreichen Fans an der Songauswahl beteiligt und mit den selbst gedrehten Videos zu so ziemlich allen Tracks beglückt.
Auf dem jetzt erschienenen "Branching Out", findet sich dann auch erwartungsgemäß eine Auswahl dieser "ethereal Folk" und Celtic Rock Versionen meist bekannter Rock und Metal Bands, wie Iron Maidens `Wasted Years`, Led Zeppelins `Stairway To heaven` oder das zuletzt veröffentlichte `Lady In Black` von Uriah Heep. Nur dass die Tracks halt den völlig eigenständigen verträumten Sirenen-Klang von ALINE bekommen. Im Klartext bedeutet dieses, dass neben Gitarren und Drums auch Harfen, Flöten, oder Geigen zu einem vollständig sphärischen Sound vermengt werden, über dem ALINEs Gesang schwebt und so die Tracks zu ihren eigenen werden lässt.
Daneben wartet sie auf dem Debüt "Branching Out" auch mit eigenen Kompositionen, wie der ersten, soundtrackartigen Singleauskopplung `Join Me`, `Home` , `Sea Of Dreams` oder 'Flower of Light' auf. Begriffe, wie hoffnungsvoll, "friedlich", "erhaben" oder schlicht "schön"  erscheinen vor dem geistigen Auge.
Kurzum,  für Freunde ruhiger , träumerischer Soundwelten ist "Branching Out" genau das Richtige. Bekommen, könnt ihr die Scheibe auf den digitalen Serviceportalen oder auf der offiziellen Homepage (https://www.alinehapp.com).
Sven Bernhardt vergibt 8 von 10 Punkten