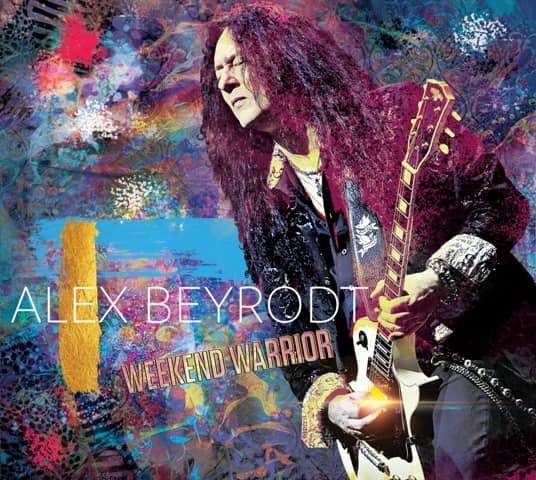 ALEX BEYRODT
Titel: WEEKEND WARRIOR
Spieldauer: 63:15 Minuten
VÖ: 01. April 2022
Als aktuelles bzw. ehemaliges Mitglied und/oder Gründer so bekannter Bands wie Sinner, Primal Fear, Silent Force und Voodoo Circle ist der saarländische Gitarrist, Komponist und Produzent ALEX BEYRODT eine angesehene Nummer in der internationalen Rock-/Metalszene.
Überraschenderweise brachte ihn erst die durch Corona verordnete (Live-)Zwangspause dazu, sein erstes Soloalbum auf die Schiene zu setzen. Dabei hat er "Weekend Warrior" komplett im Alleingang geschrieben, aufgenommen, produziert und alle Instrumente eigenhändig eingespielt.
Die elf rein instrumentalen Songs lassen in Verbindung mit den Songtiteln, dem facettenreichen Gitarrenspiel und der Vorstellungskraft des Hörers meisterhaft Bilder vor dem geistigen Auge entstehen. So findet man sich bei `Night Time` zu später Stunde in der Hotelbar einer asiatischen Millionenmetropole wieder oder beim melancholischen `Picture In An Empty Room` in eben diesem.
Andere Songs sind musikalischen Helden des Gitarristen gewidmet. Das packende, treibende `Fly Away` grüßt Michael Schenker und seine "Flying V", während `Boulder Boy` dem früh verstorbenen und im englischen Ort Boulder lebenden Deep Purple Mitglied Tommy Bolin gewidmet ist.
Neben ruhigeren Songs wie dem verträumten The Beatles-Cover `While My Guitar Gently Weeps` und einem Ausflug in Jazz/Fusion-Gefilde (`Have A Little Faith`) darf in Stücken wie `Road To Salem´, dem grandiosen `Gipsy Rose` oder dem großartigen Opener und Titelsong auch mal so richtig "shredical" drauflos gerifft werden.
"Weekend Warrior" ist ein sehr intensives, abwechslungsreiches und persönliches Album, welches auch dauerhaft unterhaltsam und interessant ist und einen die Vocals über eine gute Stunde zu keiner Zeit vermissen lässt.
Michael Gaspar vergibt 8 von 10 Punkten