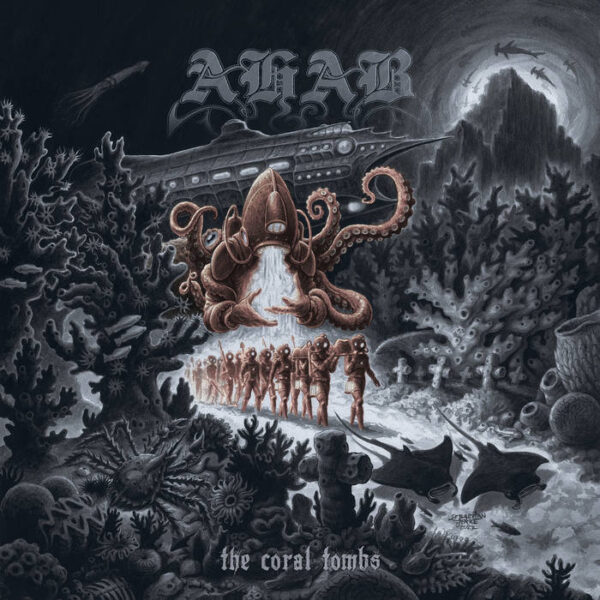 AHAB
Titel: THE CORAL TOMBS
Spieldauer: 66:16 Minuten
VÖ: 13. Januar 2023
Es sind mittlerweile tatsächlich acht Jahre seit dem 2015er Output The Boats of Glen Carrig vergangen. Seitdem haben die Nautik Doomer von AHAB vermutlich über den in Mitte Januar erscheinenden Output "The Coral Tombs" sinniert – und Jules Vernes' 20.000 Meilen unter dem Meer mehrmals verschlungen. Und niemand geringeres ist das lyrische Thema der Platte als Kapitän Nemo, die Nautilus und Professor Arronax. Unterstützt mit Gastbeiträgen von Chris Noir (ULTHA) und Greg Chandler (Esoteric) steuern AHAB mit den Protagonisten gen Meeresgrund, die Fahrt ist beschwerlich, düster und ihr Ausgang ungewiss.
Den Einstieg finden die Seefahrer über einen Blastbeatausbruch bevor sich der Seegang beruhigt und die melancholische Fahrt des Professors auf der Nautilus beginnt. Schwermütig windet sich das U-Boot durch die Untiefen der Ozeane und die Beteiligten erleben die Abenteuer mit dem geheimnisvollen Kapitän Nemo in seinem neuartigen Unterseegefährt. Schlußendlich findet die Besatzung ihr Ende in einem Malstrom vor der norwegischen Küste. Arronax und seine Begleiter können sich jedoch in den Wirren der Geschehnisse vorher an Land retten.
AHAB entführen hier in fast erzählerischer Leichtigkeit den Hörer in dieses Unterwasserabenteuer nach Vorlage von Jules Verne. Sie loten den Sound zwischen knallenden Doomkaskaden und akustisch-leichten Passagen aus, die Schwere ist erdrückend und die Spannung zum Bersten. Auch wenn einige Passagen Längen aufweisen, so gehören diese hier einfach zum AHAB'schen Soundgefügeund werden gerne in tonnenschweren Doom-Arrangements aufgelöst. Nicht selten höre ich auf der neuen Scheibe Anleihen von Pallbearer oder auch Warning durch. Damit dokumentieren AHAB für ich ein noch breiteres Spektrum an Einflüssen, das sie hier verarbeiten konnten.
Produktionstechnisch gibt es keine Wünsche und der Wechsel aus Klargesang und erdigem Gegrunze ist abermals gelungen. Die Wartezeit hat sich durchaus gelohnt und mit "The Coral Tombs" übertreffen AHAB meines Erachtens die Vorgängerscheibe. Schon fast im Sinne eines Soundtracks gibt diese Scheibe den hervorragenden Roman wieder. Ein toller musikalischer Auftakt für das Jahr 2023.
Ingo Holzhäuser vergibt 8,5 von 10 Punkten