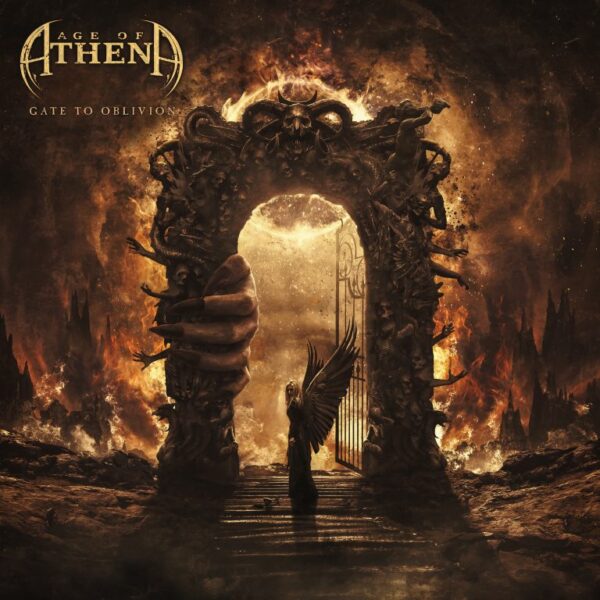 AGE OF ATHENA
Titel: GATE TO OBLIVION
Spieldauer: 41:57 Minuten
Die Ursprünge der kanadischen Metalband AGE OF ATHENA liegen an der University of Western Ontario, wo sich die Mitglieder 2016 trafen, und als Coverband in und um Toronto auftraten. Drei Jahre darauf begann man eigene Musik zu schreiben und legt nun das Debüt "Gate To Oblivion" vor.
AGE OF ATHENA verbinden nach eigener Aussage Einflüsse des amerikanischen Metalcore und des europäischen Symphonic Metal zu einem eigenen epischen Sound. Und der Laie ist erstaunt und der Fachmann wundert sich: diese ungewöhnliche Mischung funktioniert nicht nur blendend, sondern sie bringt auch eine energetische, kurzweilige Scheibe mit vielen richtig guten Songs hervor.
Der Opener 'Lost In Darkness' glänzt mit Bombast und Theatralik, vor allem aber mit einer dramatischen Orchestrierung, einem kraftvollen Leadriff und den rein weiblichen Vocals. Zu den ätherischen Vocals und der üppigen Instrumentierung über den Metalcore-Elementen treten beim folgenden Fallen 'Skies' dann auch noch dämonische männliche Screams und Growls hinzu.
Die folgenden, gitarrenlastigeren 'Dance With The Devil' und 'Ephemeral' glänzen durch intensive Leads und kraftvolle Rhythmik und weisen zudem wie auch viele der anderen Tracks packende Gitarrensoli auf. Weitere Anspieltipps sind das hymnische 'Together We Fall' und die Ballade 'All For Nothing'.
Diese sorgt für eine Verschnaufpause vor dem vermutlich härtesten, schnellsten Track 'Sickness Without Sense', der viel Energie und Dynamik aus dem schnellen Wechsel zwischen harschen gutturalen und bezaubernden cleanen Vocals zieht.
Fazit: Mitreißendes, hochenergetisches, vielseitiges Debüt mit einzigartigem Stil und ohne einen einzigen Ausfall!
Michael Gaspar vergibt 8 von 10 Punkten