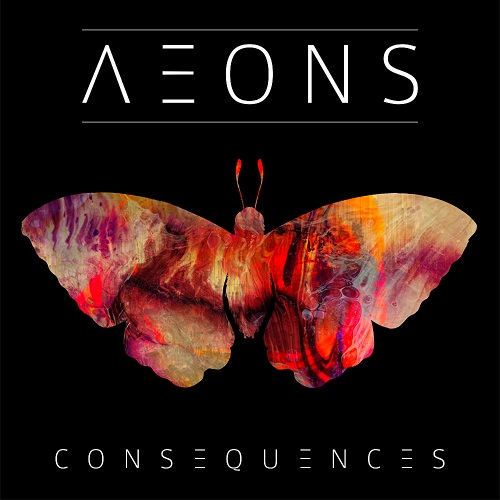 AEONS
Titel: CONSEQUENCES
Label: INDEPENDENT RELEASE
Spieldauer: 44:56 Minuten
Das Prog-Quintett AEONS stammt von der Isle of Man und legt mit einem wahren Brett namens "Consequences" das zweite Studio-Album nach "A Tragic End" (2019) vor. Dabei bedienen die fünf Briten sich zweier Gitarristen und drei Sängern, um einen massiven, fordernden und komplexen Sound zu kreieren.
Sie selbst nennen ihren Stil Technical Metal, man könnte aber auch Progressive Metalcore oder eben moderner, harter Prog Metal sagen. Die Vocals decken die gesamte Palette von Shouts, Screams, cleanen Teilen und auch Hardcore-/Rap-atigen Parts ab. Zudem sorgen Laut-/Leise-Kontraste und abwechselnde eruptive und ruhige Passagen für viel Dynamik, Energie und Abwechslung.
Die ersten beiden Tracks würde ich unter Machine Head meets Prog subsumieren wollen. Das folgende 'Lighthouse' geht in eine noch modernere (Metalcore-)Richtung und weist einen sehr gelungenen und eingängigen Chorus auf. Danach folgt eine weitere Überraschung, denn 'Blight' klingt wiederum ganz anders und wegen der Vocals, der Stimmung und dem entspannten Solo in gewisser Art und Weise nach Lenny Kravitz.
Das folgende 'Thoughts Of A Dying Astronaut' ist dagegen der "Slipknot-Song" der Platte, jedoch mit einem langen, packenden, äußerst progressiven Mittelteil. Bei 'Bloodstains', das ebenfalls zum kollektiven Durchdrehen einlädt, treten die bereits angesprochenen rap-artigen Vocals hinzu und wieder gibt es einen geilen, cleanen Refrain und harte progressive Parts noch obendrauf.
In den epischen, über elfminütigen Abschluss 'Evelyn' haben die Briten nochmal alles reingepackt, was sie so können und was ihr Sound hergibt. Und das ist wie beschrieben eine ganze Menge, was allerdings hier besonders, aber auch bei einigen der anderen Tracks zu einer gewissen Überfrachtung und (über)fordernden Komplexität führen kann. Wie so oft wäre dann weniger mehr gewesen.
Unter dem Strich aber eine sehr gute, abwechslungsreiche, kreative Scheibe einer talentierten Band mit enormem Potential, das für die Zukunft noch so einiges erwarten lässt.
Michael Gaspar vergibt 7,5 von 10 Punkten