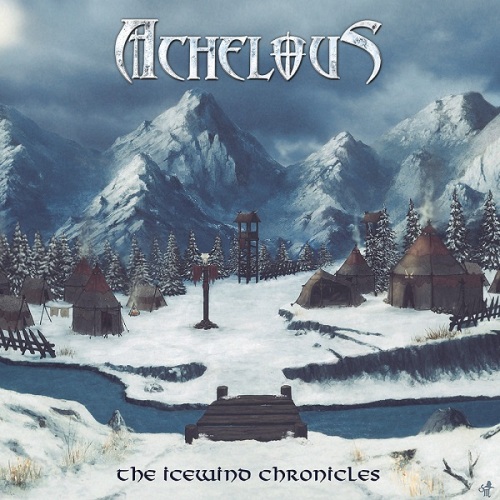 ACHELOUS
Titel: THE ICEWIND CHRONICLES
Spieldauer: 40:44 Minuten
VÖ: 17. März 2022
Begonnen hat ACHELOUS 2011als Ein-Mann-Projekt des griechischen Gitarristen Chris Achelous in Athen, der dann allerdings ACHELOUS schon recht bald zur vollständigen Band aufstockte.
Und griechische Bands sind nicht erst seit heute dafür bekannt, epische Elemente in ihren geschmiedeten Stahl zu integrieren.
So ist es auch bei ACHELOUS der Fall, die traditionellen epischen Stahl kredenzen, und das auch schon zum vierten Mal, wenn man die zwei veröffentlichten EP's mit rechnet.
Thematisch hat sich durch die Abwendung von der griechischen Mythologie hin zur Fantasy ein Umbruch ergeben, musikalisch hingegen nicht.
Die Band eröffnet hier mit einem geilen Epic Triple in Form des fetten Mid Tempo Bangers 'Northern Winds', gefolgt von dem abwechslungsreichen, aber jederzeit hymnischen 'Flames Of War' und dem nach ruhigen Einstieg brillierenden 'Savage King' mit seinen hymnischen Vocals.
Diese Klasse blitzt dann leider nur noch bei dem von Stakkato Riffing getragenen 'Face The Storm' auf, während der Rest der Scheibe dieses Niveau nicht ganz erreichen kann. Den zweimaligen Einsatz des trällernden Gastgesangs von Christina Petrogianni finde ich – ohne der Dame persönlich nahe treten zu wollen – zudem für die Art Mucke eher unpassend.
Dies ist allerdings Genörgel auf recht hohem Niveau, denn der Gesamtkontext der Scheibe ist durchaus positiv.
Ludwig Lücker vergibt 8 von 10 Punkten