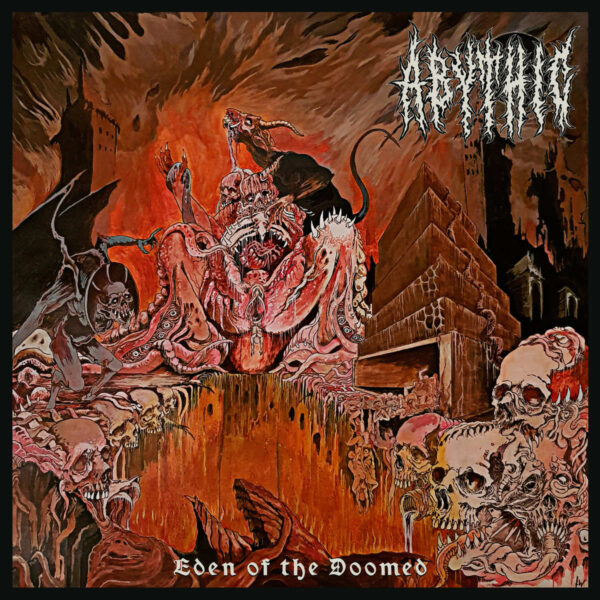 ABYTHIC
Titel: EDEN OF THE DOOMED EP
Spieldauer: 17:53 Minuten
VÖ: 27. Mai 2022
Die deutschen Death Doomer von ABYTHIC zermalmen uns mit diesem Kleinod heaviester Tonkunst in Form der neuen EP "Eden of the Doomed".
Reduziert, walzend und unglaublich heavy rollen die drei Tracks eher gemäßigt durch des Hörers Gehörgänge. Satte Gitarrenriffs, eine punktgenaue Rhythmusfraktion mit Drive und die diabolischen Growls von Sänger Killrich und Gitarrist MDB lassen die EP zu einer düsteren und knochenbrechende Fahrt durch die Abgründe der Seele werden.
Wenige Uptempoparts sorgen für die notwendige Abwechslung, wobei ABYTHIC grandios in den kriechenden bis walzenden Doomparts agieren. Hier haben sie ein Gespür für fiese und stimmungsvolle Leads. Der Highspeed Blastbeat Ausbruch in 'Conquest of the the One True Creed' kann ich nur als formidabel bezeichnen. Er lockert die gesamte EP enorm auf und zeigt, dass die Band mehr als nur zähe Lava bändigen kann.
Fazit: 18 Minuten voll mit brutalem, düsterem, zähem und kriechendem Death Metal, der herrlich ehrlich ohne Geschwurbel und Tech-Overkill präsentiert wird. Starkes Stück der Kölner nachdem tollen Dominion of the Wicked Album. Und zusammen mit der neuen Scalpture  ist "Eden of the Doomed" ein absolut erstzunehmendes Jahreshighlight!
Ingo Holzhäuser vergibt 9 von 10 Punkten