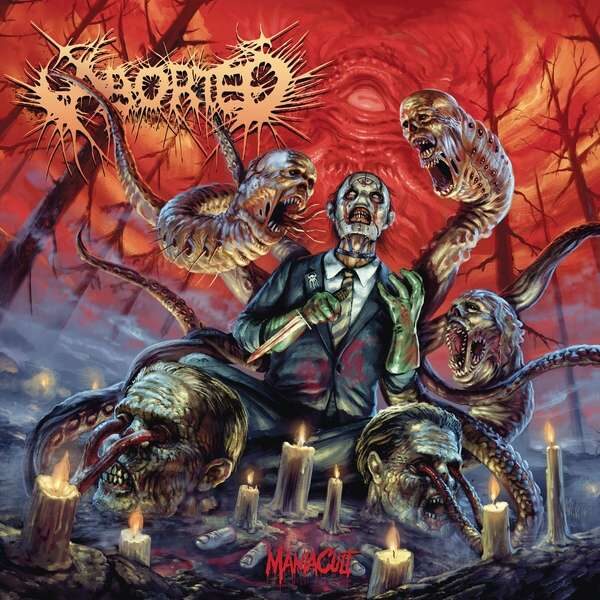 Spieldauer: 40:54 Minuten
Die belgische Death-Grind Truppe ABORTED zeigt sich mit "ManiaCult" nach bereits 26 Jahren Bandaktivität in beachtlich guter Form. Die Band um Sänger und Bandgründer Sven de Caluwé präsentiert sich frisch und frei, dennoch ist hier nicht stumpfes Gekloppe in Dauerschleife angesagt: ABORTED verstehen ihr blutiges Handwerk, agieren präzise und dennoch nachhaltig brutal.
Musikalisch wildert man an der immer fließenden Grenze zwischen Death Metal, Brutal/Tech Death, Grind aber auch Deathcore und moderneren Songstrukturen. Wenn man genau hinsieht ist der Track 'Dementophobia' eigentlich der Hit, den sich Caracas für ihre neue Scheibe einfach ausgespart haben. Ein Killer! Doch auch die Melange aus den restlichen Songs hat mich aufhorchen lassen. Schon der Titelsong 'ManicCult' stellt die Klasse der hier agierenden Musiker heraus. Beide genannten Titel sind sicherlich die herausragenden Tracks, aber auch 'Drag me to Hell' oder der Abschlusstrack 'I Prediletti: The Folly of the Gods' wissen den geneigten Hörer zu begeistern. Man muss ABORTED hier nicht nur die Beherrschung des Extreme Metal Handwerks anerkennen, sondern auch die Fähigkeit eine düstere und teils beklemmende Atmosphäre in ihren Kompositionen zu erzeugen. 
Fazit: Wirklich gelungen und durchweg gut, teilweise darüber hinaus. Für mich definitiv interessanter und besser als die neue Carcass. Und ABORTED Fans sowie aufgeschlossene Zeitgenossen wie Tunnel Tanja und Hackebeil Harry sollten hier mal ein bis drei Ohren riskieren.
Ingo Holzhäuser vergibt 8 von 10 Punkten