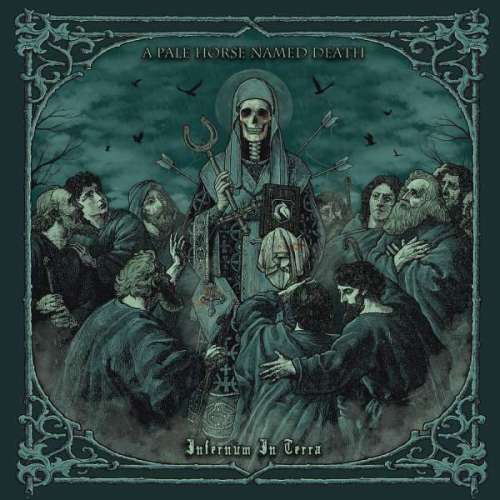 A PALE HORSE NAMED DEATH
Titel: INFERNUM IN TERRA
Label: LONG BRANCH RECORDS
Spieldauer: 54:24 Minuten
Falls es jemand noch nicht mitbekommen hat, dem sei hier noch einmal erzählt, dass es sich bei A PALE HORSE NAMED DEATH um die Kapelle von Sal Abruscato handelt, den die meisten Leute hier durch sein Mitwirken bei der Kultband Type O Negative kennen dürften.
Die bisherigen drei Alben der New Yorker bewegten sich auch in diesem Dunstkreis des Doom/Gothic Metals. Das hat sich heuer aber um eine Nuance gewandelt. A PALE HORSE NAMED DEATH hat die Gothic Einflüsse zurück gefahren und den Doom Metal Anteil erheblich erhöht. Hier scheinen des Öfteren die Godfathers of Doom namens Black Sabbath Pate gestanden zu haben.
Ein Track wie 'Two Headed Snake ( Propofol Dreams)' könnte jedenfalls auch aus der neueren Feder der Birminghamer stammen. Aber auch Tracks wie das locker rockende, aber dennoch schwermütige 'Lucifer's Sun' und das von einem Doom Riff eingeleitete, dann eher rockig pumpende 'Devil's Deed' sind richtig geile Mucke. Die alten Goth Vibes blitzen dann aber bei einem Stück wie dem langsam groovenden 'Shards Of Glass' auf und tendieren wieder mehr in die Type O Ecke.
Auch wenn Sal nicht an die Genialität seiner alten Kapelle heran kommt, ist A PALE HORSE NAMED DEATH qualitativ gute Mucke, die für Doom Heads definitiv hörenswert ist.
Ludwig Lücker vergibt 8 von 10 Punkten