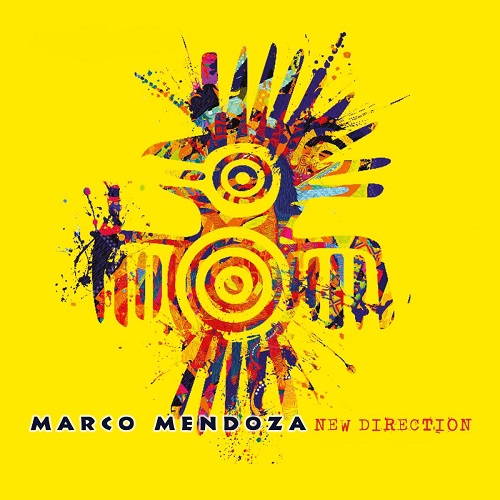 MARCO MENDOZA
Titel: NEW DIRECTION
Label: MIGHTY MUSIC/TARGET GROUP
Spieldauer: 42:20 Minuten
VÖ: 16. September 2022
Bassist MARCO MENDOZA hat, um da wirklich nur einige zu nennen, mit und für Größen wie Thin Lizzy, Whitesnake, Journey, Ted Nugent und The Dead Daisies den Tieftöner bedient und auch bereits erfolgreich als Solokünstler gearbeitet.
Mitte September erscheint seine mittlerweile vierte Soloscheibe "New Direction", bei dem seine beeindruckend guten und vielseitigen Vocals und hochklassigen Basslinien von Soren Andersen (Produktion, Gitarren und Keyboards) begleitet und veredelt werden.
Tommy Gentry (Gun) steuert als Gast Gitarrensoli zu einzelnen Tracks bei, während die Drums zwischen Morten Hellborn (Electric Guitars) und Allan Tschicaja (Pretty Maids) aufgeteilt wurden. Bei diesen musikalischen Referenzen und Protagonisten dürfte die Ausrichtung der Scheibe jedem klar sein. Hier gibt es feinsten AOR, Melodic/Hard Rock mit Frische, Seele und Können.
Der Opener `Take It To The Limit´ beginnt mit Sirenen und pulsierenden Riffs und mausert sich zum melodischen Ohrwurm, von deren Sorte im sich Folgenden mit `I Just Can't Get Over You´, `Walk Next To You´ und `Shoot For The Stars´ ein weiterer an den anderen reiht.
Beim grandiosen `Light It Up´ ist zunächst und unterwegs definitiv der Bass der Star, aber auch den Gitarrenhexern wird genügend Platz für ihre Solokünste eingeräumt. Auch auf den luftig-rockigen `Free Ride´ kommt man gerne mit.
Und auch, wenn es in der zweiten Albumhälfte etwas relaxter und nicht mehr ganz so aufregend und mit deutlich weniger Ohrwurmfaktor als vorher zugeht, ist "New Direction" insgesamt ein gutklassiges, entspanntes, eingängiges und auch modernes Scheibchen eines kreativen Musikers geworden, dass man jedem Hardrockfan bedenkenlos empfehlen kann.
Denn mit der Freitag-Abend-Ausgeh-Hymne `Scream And Shout´ und dem pulsierenden Titelsong kriegt der Protagonist nach den zwischendurch ein wenig abflachenden, austauschbaren Tracks zum Ende des Silberlings nochmal die Kurve zum Besseren.
Michael Gaspar vergibt 7,5 von 10 Punkten