Nietzsche soll gesagt haben "Die Wahrheit ist hässlich. Wir haben die Kunst, damit wir nicht an der Wahrheit zu Grunde gehen." Dass für viele Menschen aus der Veranstaltungsbranche die Wahrheit zur Zeit besonders hässlich ist, ist hinlänglich bekannt. Konzerte oder Disco-Abende dürfen im Turock zum Beispiel nach wie vor nicht stattfinden. Aber eine Ausstellung! Natürlich mit entsprechenden Einlass-, Abstands- und Hygieneregelungen.
Die ausstellenden Künstler Thomas Ewerhard, Björn Gooßes und Jan Meininghaus sind in der Metal Szene Vielen ein Begriff, da sie alle drei reichlich Cover gestaltet haben, die ein Teil des Gesamtkunstwerks "CD" ist, das wir alle so lieben. Von AVANTASIA über LEGION OF THE DAMNED über SODOM zu KREATOR und viele Bands mehr.
Die PAINTED IN BLOOD Ausstellung im Turock beginnt am 3. Juli 2020 und läuft vier Wochen.
Die Ausstellungseröffnung findet am 3. Juli 2020 um 19:00 Uhr, Der Eintritt ist frei!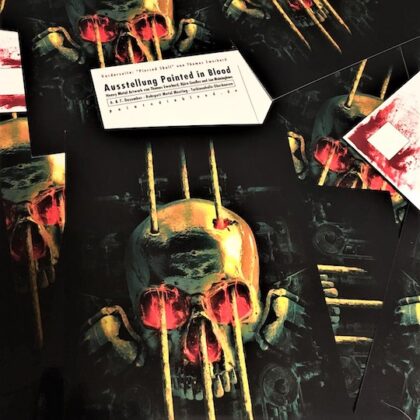 Ausstellung | Meet & Greet | Art Store | Biergarten
www.ewerhard.com
www.killustrations.com
www.jan-meininghaus.de