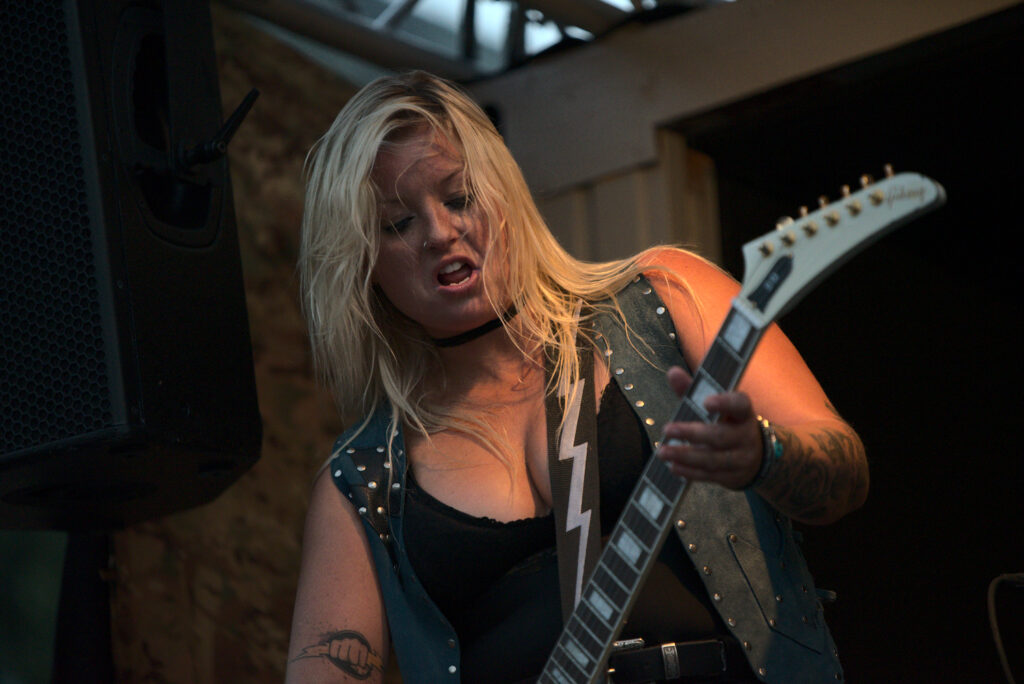 THUNDERMOTHER – Münster
"Hafenkäserei"
05.08.2020
Als ob sie es geahnt hätten. Die Hitzewelle kam passend zur "Heat Wave Release Tour" unter Covid19 Bedingungen. Also nicht unbedingt die besten Voraussetzungen für eine echte Rock'n Roll Party, für die, die Schwedinnen ja immer gut sind.
Im überschaubaren Biergarten der "Hafenkäserei" mitten im beschaulichen Münster sollte es also passieren, die Vorstellung der neuen Platte und mein persönlich erstes Corona Konzert. Nach dem verpassten Supportact HOBO AT THE RAILROADSTATION, enterten die vier Mädels Filippa, Guernica, Majsan und Emlee die kleine Bühne, um sich einer sitzenden Menge von ca. 200 Nasen gegenüber zu sehen.
Trotz dieser widrigen Umstände und den anständigen Sommertemperaturen war ihnen die Spielfreude vom ersten Moment an, anzumerken. Energie kam von der Bühne, als ob 2000 vor der Bühne stehen und nicht nur 200 sitzen, die aber zumindest kräftig Beifall klatschten. Der Fokus des Konzertes lag naturgemäß auf dem Material des gerade erschienenen vierten Longplayers "Heat Wave". Songs wie der Titeltrack, die Single "Driving In Style" oder das Hard Rockige 'Dog From Hell' verfehlten ihre Wirkung bei den Anwesenden nicht. Vom Hardcore THUNDERMOTHER Fan, der wirklich jede Zeile mitsingen kann, bis zu Rockfreunden die offenbar verdammt froh waren, endlich mal wieder eine Live-Show zu sehen, war an diesem Abend alles vertreten. Zur Biergarten-Party Stimmung passte auch das Verhalten der Rock'n Roll -Ladies hervorragend. Egal ob sich Sängerin Guernica – die sich immer mehr als echter Glücksfall für die Band erweist – mit ihrem Blaumann beim Rose Tattoo Shouter Angry Anderson für die modische Beratung bedankt oder ob Filippa mit ihrer Gitarre quer durch das Publikum hin und her wandernd rockt. Neben den genannten neuen Songs kamen natürlich auch ältere Tracks und Bandhits wie 'We Fight for Rock 'n' Roll' zum Einsatz. 'Deal with the Devil', 'Hellevator' oder 'Shoot to Kill' sind in ihrer Rotzigkeit einfach verdammt unterhaltsam, sodass nach anderthalb Stunden nicht nur die Band sondern auch das Publikum zufrieden grinste. Die Stimmung war durchgehend gut und der Spaßfaktor hoch wenn auch nicht wirklich "frenetischer Jubel" herrschte aber das lassen die derzeitigen Umstände wohl auch nicht zu.
So lässt sich auch die Coronazeit noch etwas aushalten.
Fotografie: Sven Bernhardt