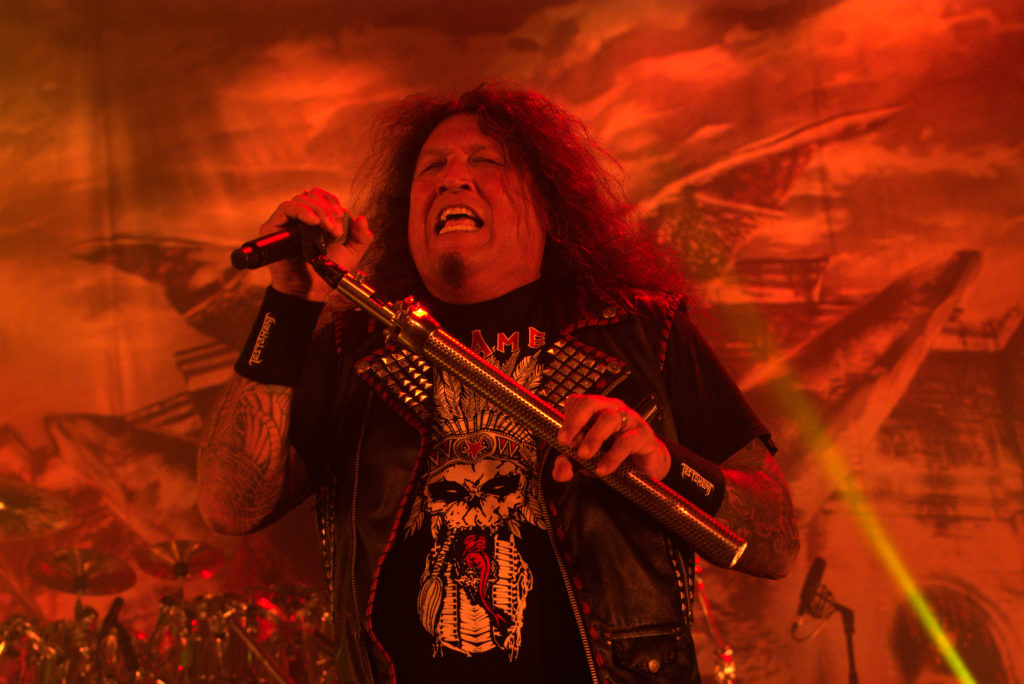 The Bay Strikes Back
TESTAMENT, EXODUS, DEATH ANGEL
14.02.2020, Turbinenhalle 1, Oberhausen
Das Packet der drei schon legendären Thrashpioniere aus der Bay Area hat eindeutig gezogen, denn so voll wie an diesem Abend hatte ich die Halle lange nicht erlebt.
Gespannt warteten also fast dreitausend Thrashfans zunächst auf DEATH ANGEL, die mit ihrem letzten Longplayer "Humanicide" nicht auf ungeteilte Gegenliebe gestoßen sind. Anders herum sind sie aber nun mal eine richtig gute Liveband und haben mehr als nur eine Handvoll Klassiker in der Hinterhand. Von irgend einer Skepsis war nicht das Geringste zu spüren, als die Band mit dem aktuellen Titelsong loslegte. Im Gegenteil, es tobte blitzartig der sprichwörtliche Bär. Sogar bei kleinsten Pausen (!) gab es "Zugabe"-Rufe und mit dem Abschlusstrack "The Ultra-Violence" fand eine bemerkenswert energiestrotzende Opening Show nach acht Songs ihr furioses Ende.
Das Thrash-Fest fand mit dem Gig von EXODUS für verdammt viele Fans sein absolutes Highlight. Nach dem Verklingen des "10 kleine Jägermeister" Intros droschen EXODUS zuerst "Body Harvest" und "Blood In, Blood Out" in die Menge und diese bedankte sich mit sofortigem Jubel und Crowdsurfern. Insbesondere die Rückkehr von Gary Holt wurde gefeiert aber natürlich auch "immer in die Fresse-Tracks" wie "Fabulous Disaster" oder der gesamte Zugabeblock mit "Bonded by Blood", "The Toxic Waltz" und dem grandiosen "Strike of the Beast", sorgten für allerbeste Stimmung bei den Fans und offenbar auch der Band. Mr. Souza und Co. kamen aus dem Grinsen zumindest kaum noch heraus. Einfach nur: Top!
Nach diesem Hammergig hatten es TESTAMENT etwas schwer das Stimmungslevel zu halten. Aber Peterson, Chuck Billy und ihre Bandgenossen wären nicht da, wo sie heute sind, wenn sie diese Attacke nicht kontern könnten. Eröffnet wurde mit:"Eerie Inhabitants" und "The New Order" noch vergleichsweise verhalten aber solche Thrashklassiker  wie "Into the Pit", "Practice What You Preach", "Over the Wall" und "Disciples of the Watch" verfehlen ihre Wirkung einfach nie! Also auch hier: thumbs up für eine starke Leistung!!
So kann 2020 gerne weitergehen.
Sven Bernhardt
Fotografie: Sven Bernhardt