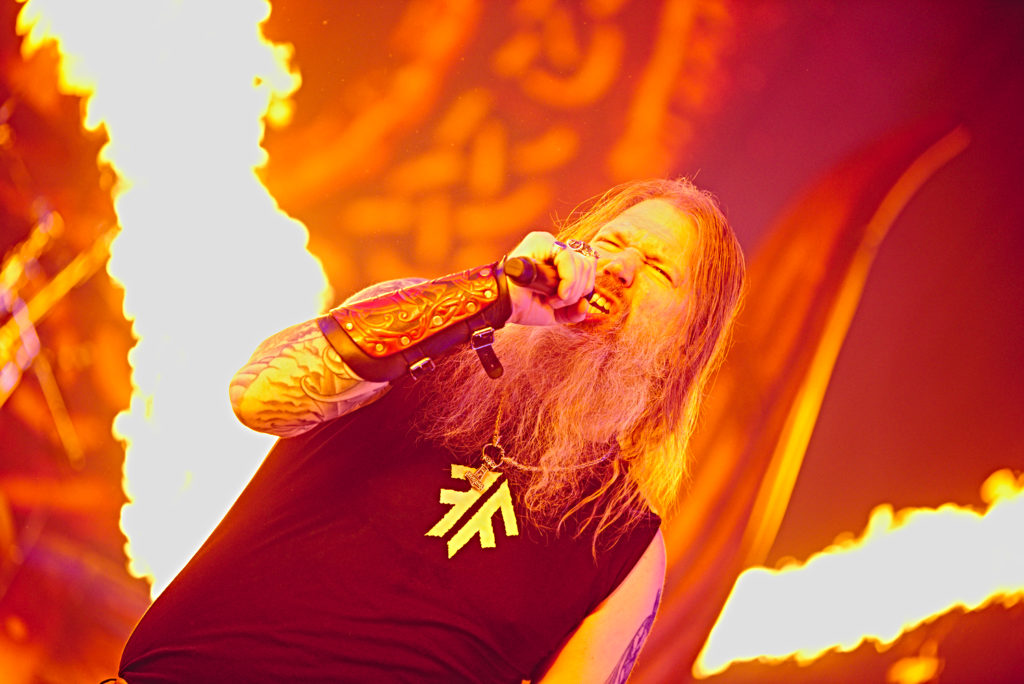 AMON AMARTH – ARCH ENEMY- HYPOCRISY
Unter dem Berzerker-Banner hatten sich gleich drei schwedische Death Metal-Bands zusammengetan und die Oberhausener Arena damit kräftig aufgemischt. HYPOCRISY, ARCH ENEMY und AMON AMARTH mobilisierten ca. 8500 Metalheads und füllten die riesige Halle mehr als anständig. Eine enorme Zahl, bedenkt man, dass neben den alten ganz großen Bands wie Priest, Maiden und Co. kaum noch jemand so viel Fans mobilisieren kann. Der Opening-Slot wurde von Peter Tägtgrens HYPOCRISY mehr als nur ordentlich gefüllt. Die Gesamtspielzeit war zwar verdammt kurz aber die Tägtgrenschen Schreiattacken, gepaart mit den zu gleichen Teilen melodisch als auch heftig dargebotenen Tracks kamen ziemlich gut an, auch wenn das Material wohl nur den wenigsten bekannt war. Beim nächsten Mal bitte mehr davon.
Spätestens als ARCH ENEMY losgelegten wurde klar, dass hier nicht alle wegen des Headliners gekommen waren. Das aktuelle Album "Will to Power" stand im Vordergrund aber auch Material wurde nicht vergessen. Allen voran lag der Fokus natürlich auf Sängerin Alissa, die ständig bangend und die Menge anfeuernd über die Gesamtheit der Bühne tobte. Mit der tighten Band im Rücken war dieser Gig für Viele war die Show bereits ein echtes, wenn nicht sogar das Highlight des Abends.
Iron Maidens "Run to the Hills" ist das Intro der "Wikinger" von Amon Amarth und mit dessen Ertönen ging die sprichwörtliche "Luzie" ab. Unter massiven Feuerstürmen fackelten die derzeit schwerst angesagten Death Metaler ihr Programm ab und ins schwitzen kamen nicht nur die ersten Reihen wegen der imposanten Pyroshow. Andere optische Gimmicks, wie der riesige Drumriser-Helm oder der Berzerker himself bereicherten die Show. Songs wie "Death In Fire", "Guardians Of Asgaard" und "Twilight Of The Thunder God", die schließlich das Fundament für den Erfolg von Amon Amarth sind, hinterließen eine feiernde und zufrieden Meute, die sich sicher gern an diesen Abend zurück erinnern wird.
Sven Bernhardt
Fotografie: Sven Bernhardt