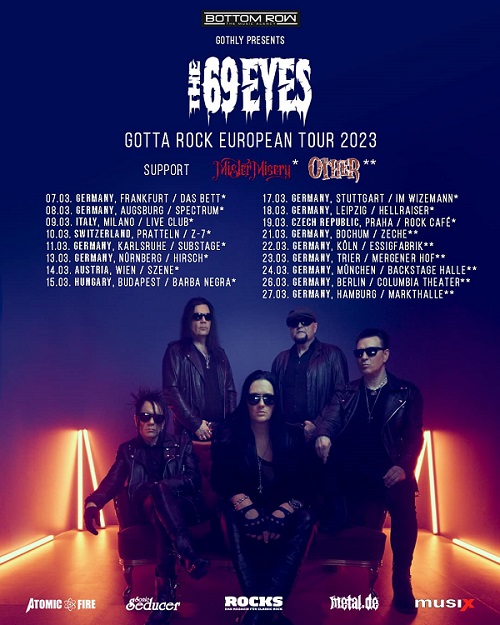 THE 69 EYES – "GOTTA ROCK EUROPEAN TOUR 2023"
7. März – 27. März 2023
(bereits stattgefunden!)
Helsinki's Gothic Rock Vampire THE 69 EYES stellen ihre "GOTTA ROCK EUROPEAN TOUR 2023" vor, welche sie im März 2023  in 17 Städte in sechs europäischen Länder führen wird. Die Fans dürfen dann auch schon ein paar ganz neue Songs von der für das Frühjahr geplanten neuen Scheibe erwarten.
Sänger Jarki 69 kommentiert das Ganze so:
"Time to drag our vampire tour bus around European live crypts! Our brand new album on its way, we will make sure that all of you GOTTA ROCK!"
Als Support wurden zwischenzeitlich Mister Misery (Dates bis 19.03.) und The Other (ab 20.03.) bestätigt.
Hier die Termine in deutschen Landen im Überblick (mehr im Flyer):
07.03.23 D-Frankfurt / Das Bett
08.03.23 D-Augsburg / Spectrum
11.03.23 D-Karlsruhe / Substage
13.03.23 D-Nürnberg Hirsch
17.03.23 D-Stuttgart / Im Wizemann Club
18.03.23 D-Leipzig / Hellraiser
21.03.23 D-Bochum / Zeche
22.03.23 D-Köln / Essigfabrik
23.03.23 D-Trier / Mergener Hof
24.03.23 D-München / Backstage Halle
26.03.23 D-Berlin / Columbia Theater
27.03.23 D-Hamburg / Markthalle