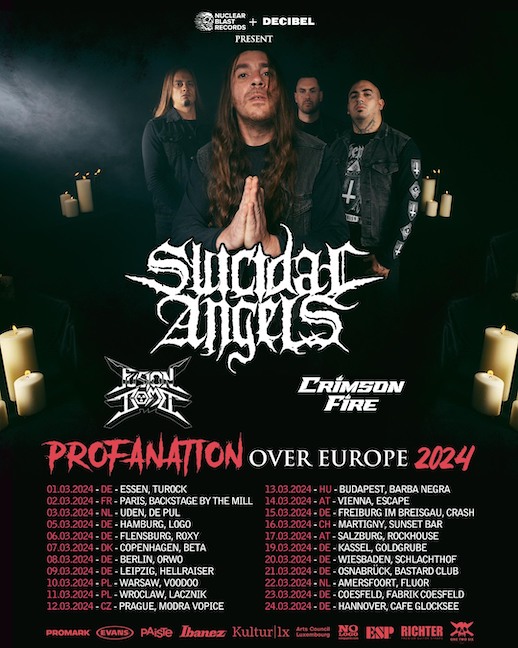 SUICIDAL ANGELS – `Profanation Over Europe` Tour 2024 ( FUSION BOMB & CRIMSON FIRE)
1. März – 24. März 2024
Die griechischen Thrasher SUICIDAL ANGELS geben heute ihre `Profanation Over Europe` Tourpläne für das kommende Frühjahr bekannt. Zusammen mit den thrashenden Luxemburgern FUSION BOMB und den ebenfalls aus Griechenland stammenden Heavy Metallern CRIMSON FIRE, die die Opening Slots besetzen, werden sie im März 2024 durch europäische und deutsche Lande ziehen , nicht nur um ihr kommendes Album zu promoten.
SUICIDAL ANGELS schreiben zur Ankündigung:
"At last! It's been two years since the world stopped spinning and a fatal illness almost destroyed our lives. This is our comeback!
We are thrilled to announce our upcoming European tour, brand new music and of course the release of our new album.
BUT first and foremost, we have the pleasure of announcing our first headline tour since that most unwanted worldwide break! We invite each and every one of you to sell out all of our club shows during this tour! It's something you've always done and it's through you that we get back all the strength in the world! That's how you help the band stand on its feet! You empower us, as well as all the bands out there, through your immense support and give us the strength to keep going!
Below you can find all our tour dates as well as the ticket links for our shows and grab your tickets!
Stay tuned and be patient until next week! We will be back with new music and of course the announcement of the release of our new album! Trust us when we tell you this is going to be one hell of a year! Thanks to all of you out there who still believe in Suicidal Angels! Onwards and upwards!"
Hier alle Termine der `Profanation Over Europe` Tour 2024:
01.03. DE – Essen, Turock
02.03. FR – Paris, Backstage By The Mill
03.03. NL – Uden, De Pul
05.03. DE – Hamburg, Logo
06.03. DE – Flensburg, Roxy
07.03. DK – Copenhagen, Beta
08.03. DE – Berlin, Orwo
09.03. DE – Leipzig, Hellraiser
10.03. PL – Warsaw, Voodoo
11.03. PL – Wroclaw, Lacznik
12.03. CZ – Prague, Modra Vopice
13.03. HU – Budapest, Barba Negra
14.03. AT – Vienna, Escape
15.03. DE – Freiburg Im Breisgau, Crash
16.03. CH – Martigny, Sunset Bar
17.03. AT – Salzburg, Rockhouse
19.03. DE – Kassel, Goldgrube
20.03. DE – Wiesbaden, Schlachthof
21.03. DE – Osnabrück, Bastard Club
22.03. NL – Amersfoort, Fluor
23.03. DE – Coesfeld, Fabrik Coesfeld
24.03. DE – Hannover, Cafe Glocksee