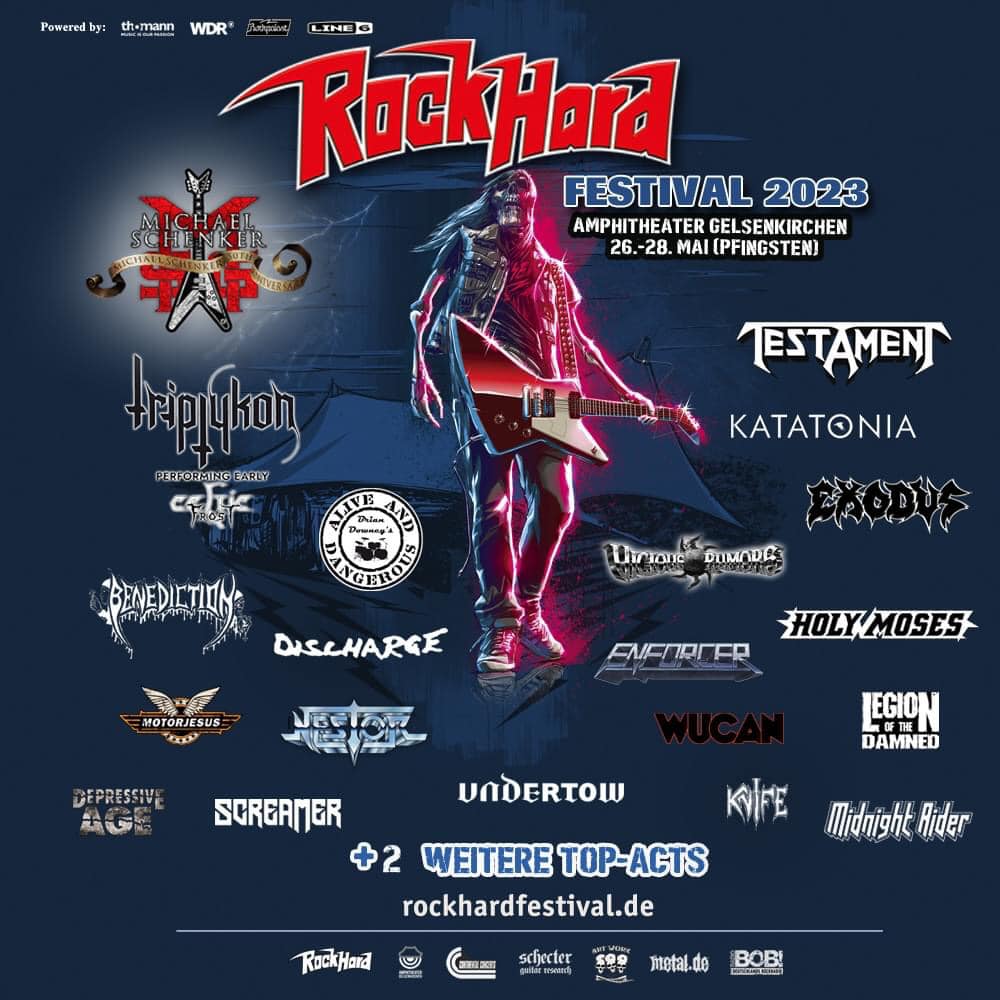 ROCK HARD Festival 2023 – MSG, TRIPTYKON (Celtic Frost-Set) TESTAMENT, EXODUS u.a.
26. Mai – 28. Mai 2023
(bereits stattgefunden!)
Amphitheater in Gelsenkirchen
Zum 20jährigen Jubiläum will das ROCK HARD Festival 2023 eine anständige Geburtstagsparty veranstalten und das Gelsenkirchener Amphitheater drei Tage lang in eine feiernde Metal Zone verwandeln. Nach den ersten Bandbestätigungen für den 26. – 28. Mai 2023 sind heute echte Hochkaräter für das Line-Up bekannt gegeben worden:
TRIPTYKON (mit Celtic Frost-Set), TESTAMENT, EXODUS, KATATONIA, BRIAN DOWNEY'S ALIVE AND DANGEROUS, NESTOR, DISCHARGE, LEGION OF THE DAMNED, HOLY MOSES, MICHAEL SCHENKER GROUP, PSYCHOTIC WALTZ, DISCHARGE, DEPRESSIVE AGE, KNIFE,  SCREAMER, VICIOUS RUMMORS, WUCAN, MIDNIGHT RIDER, MOTORJESUS, UNDERTOW, BENEDICTION & ENFORCER.
Das 3-Tagesticket kostet pro Nase 119,90 Euro inklusive Gebühren.
Hier findet ihr sie: https://shop.rockhard.de/de-de/rock-hard-festival
Die Running Order sieht wie folgt aus:
Freitag, 26. Mai
TRIPTYKON plays early Celtic Frost
BENEDICTION
VICIOUS RUMORS
HOLY MOSES
MOTORJESUS
SCREAMER
Samstag, 27. Mai
TESTAMENT
EXODUS
BRIAN DOWNEY´S ALIVE AND DANGEROUS
DISCHARGE
DEPRESSIVE AGE
NESTOR
KNIFE
MIDNIGHT RIDER
Sonntag, 28. Mai
MICHAEL SCHENKER GROUP
KATATONIA
TANKARD
ENFORCER
LEGION OF THE DAMNED
WUCAN
UNDERTOW
IRON FATE