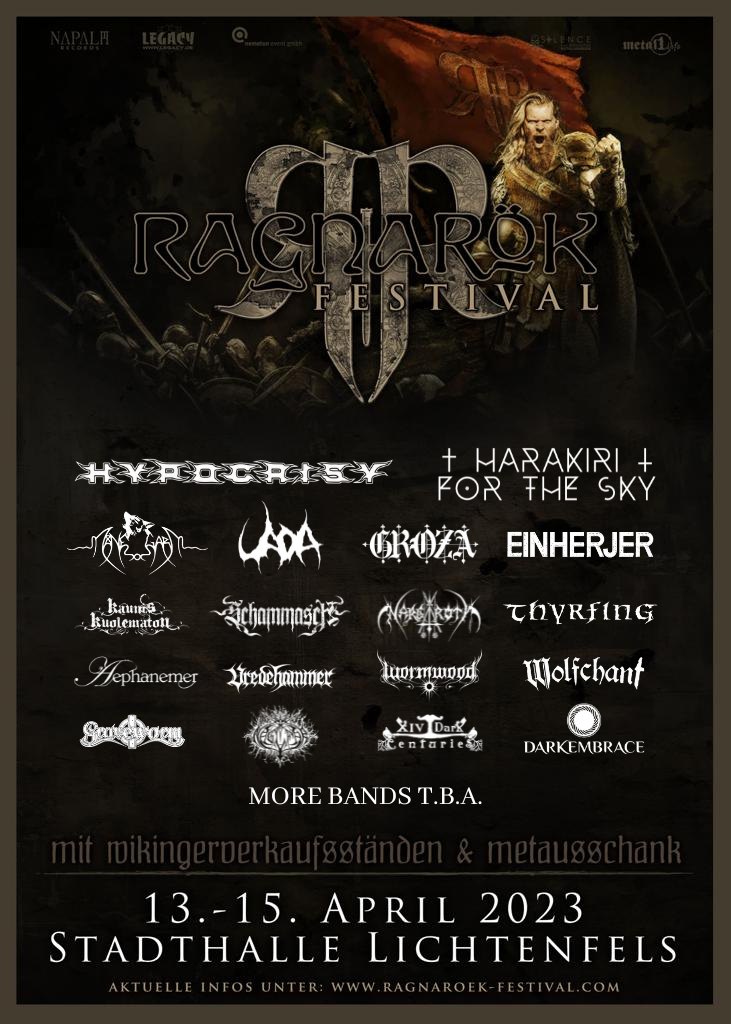 RAGNARÖK Festival 2023 – HYPOCRISY, HARAKIRI FOR THE SKY MANEGARM, UADA uv.m.
13. April – 15. April 2023
(bereits stattgefunden!)
Stadthalle in Lichtenfels
Das RAGNARÖK Festival 2023 im Oberfränkischen Lichtenfels gibt einen Haufen Bands für die Ausgabe 2023 bekannt. So haben sich inzwischen HYPOCRISY und HARAKIRI FOR THE SKY als Headliner herauskristallisiert, daneben gibt es auch noch zahlreiche andere Acts der , vorzugsweise harten Fraktion, die die Stadthalle weichkochen wollen.
Das komplette bisher geplante Billing liest sich so:
Hypocrisy
Harakiri for the sky
Månegarm
Uada
Groza
Einherjer
Kaunis Kuolematon
Schammasch
Nargaroth
Thyrfing
Aephanemer
Vredehammer
Wormwood
Wolfchant
Graveworm
Naglfar
XIV Dark Centuries
Dark Embrace
Tickets findet ihr unter dem folgenden Link: https://ragnaroek-festival.com/ragnaroek-tickets/