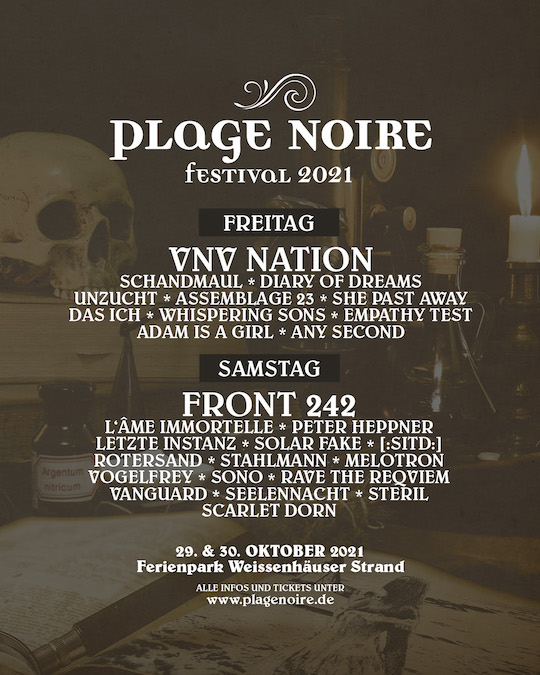 PLAGE NOIRE – FIELDS OF THE NEPHILIM, VNV NATION, SCHANDMAUL, FRONT 242, L'ÂME IMMORTELLE , PETER HEPPNER u.v.m
29. Oktober – 30. Oktober 2021
(bereits stattgefunden!)
FERIENPARK in WEISSENHÄUSER STRAND
Das Plage Noire ("Schwarzer Strand") Festival im Ferienpark Weissenhäuser Strand ist als Kurzurlaub konzeptioniert, der seine Gäste in die düstere Erzählung um eine Kaufmannstochter entführt, die seit Jahrhunderten auf die Rückkehr ihres Geliebten wartet und deren ewige Suche sie einmal im Jahr an den Strand des Festivals führt. Neben der ungewöhnlichen dramaturgischen Ausrichtung ist das Plage Noire auch aus anderen Gründen besonders: Mehr als 25 Konzerte führen internationale Szene-Größen an die Ostsee, das Publikum ist in komfortablen Apartments oder Hotelzimmern untergebracht. Neben der Musik können die Gäste auch andere Facetten der Schwarzen Szene entdecken: Kunst, Lesungen, Workshops – alle Veranstaltungen sind genau auf die Zielgruppe abgestimmt und finden indoor statt. Der stilvoll dekorierte Ferienpark wird so für ein Wochenende zu einer eigenen Welt, die ihre Besucher auch nach dem Festival noch gefangen nimmt.
Einige Änderungen im Line-Up haben sich ergeben
Heute am 30. Oktober wurden dann die großen FIELDS OF THE NEPHILIM doch wieder bestätigt.