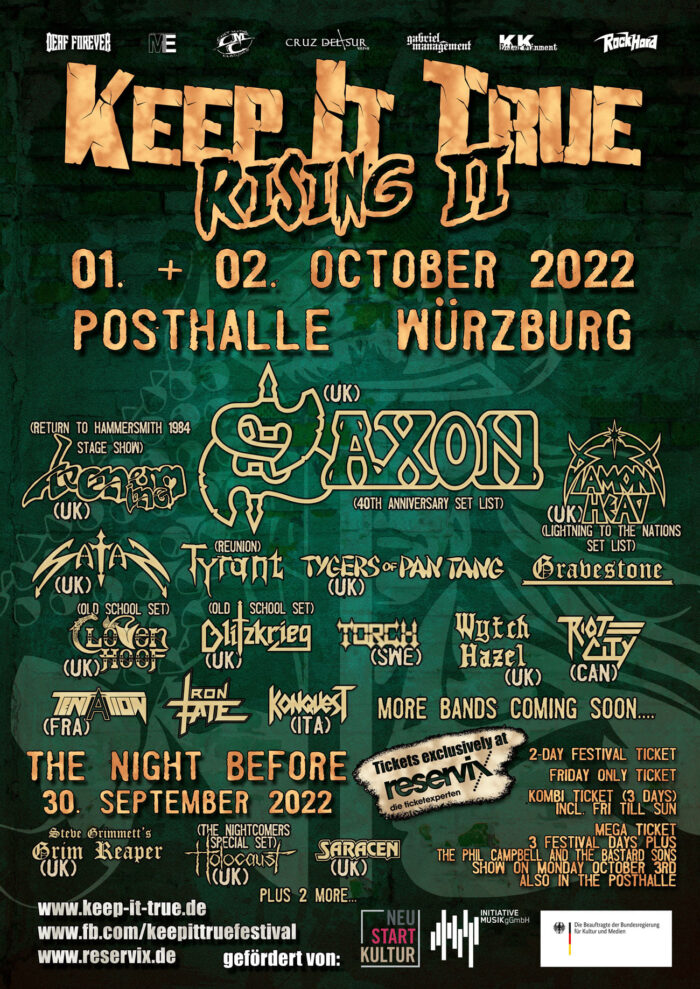 OBLIVEON präsentiert KEEP IT TRUE-RISING II
1. Oktober – 2. Oktober 2022
(bereits stattgefunden!)
Posthalle in Würzburg
Die Rede ist vom zweiten "Keep It True – Rising", welches diesmal am 1./2. Oktober 2022 in der bewährten Posthalle Würzburg stattfinden wird. Am Vorabend wird sogar an gleicher Stelle "The Night Before" mit fünf interessanten Bands stattfinden. Einem langen Metal-Wochenende steht somit nichts im Wege, zumal der darauffolgende Montag ein Feiertag ist. Die Unersättlichen unter Euch können sich an diesem Tag sogar noch PHIL CAMPBELL AND THE BASTARD SONS reinziehen.
Das Billing ließt sich mit u.a. SAXON, DIAMOND HEAD, BLITZKRIEG, SATAN, CLOVEN HOOF und den TYGERS OF PAN TANG bereits jetzt wie ein Who-Is-Who der NWOBHM. Dazu gesellen sich eine ganze Reihe interessanter alter (VENOM INC., TYRANT (die Deutschen), TORCH, GRAVESTONE…) und neuer (WYTCH HAZEL, RIOT CITY, TENTATION, IRON FATE…) Bekannter, die dem Festival seinen typischen old-school Flair verleihen. "The Night Before" ist mit u.a. HOLOCAUST und SARACEN nicht minder hochkarätig besetzt.
Hier das momentane Billing, das im Laufe des Jahres noch weiter ausgebaut werden wird:
"Keep It True – Rising II" (1./2.10.2022)
SAXON (UK)
(40th anniversary Set List)
VENOM INC (UK)
(Return to Hammersmith 1984 stage show)
DIAMOND HEAD (UK)
(Lightning To The Nations Set List)
SATAN (UK)
TYRANT (GER)
(Reunion)
TYGERS OF PAN TANG (UK)
GRAVESTONE (GER)
CLOVEN HOOF (UK)
(Old School Set)
BLITZKRIEG (UK)
(Old School Set)
TORCH (SWE)
WYTCH HAZEL (UK)
RIOT CITY (CAN)
TENTATION (FRA)
IRON FATE (GER)
KONQUEST (ITA)
plus more
"The Night Before" (30.09.2022)
STEVE GRIMMETT'S GRIM REAPER (UK)
HOLOCAUST (UK)
(The Nightcomers Special Set)
SARACEN (UK)
plus two more
Wir freuen uns auf eine unbeschwerte True-Metal-Party wie im letzten Jahr!
Karten gibt es ab sofort unter folgendem Link mit diesen Optionen:
Zwei-Tages Festival Ticket (Samstag und Sonntag)
Freitags-Ticket
Kombi Ticket Freitag bis Sonntag (3 Tage)
Mega Ticket: Kombi Ticket PLUS die PHIL CAMPBELL AND THE BASTARD SONS Show am Montag, 03.10.2022 auch in der Posthalle