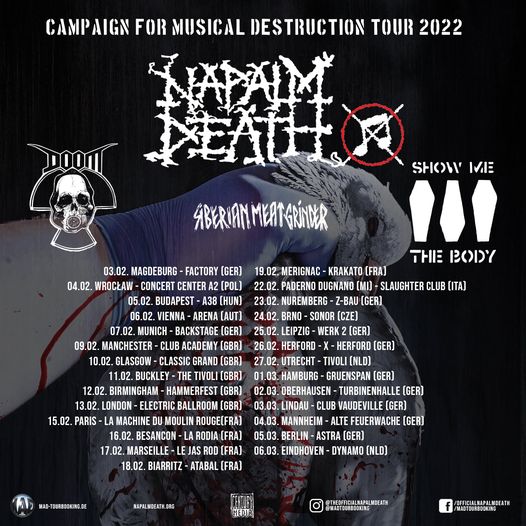 NAPALM DEATH – Campaign For Musical Destruction Tour 2022!
3. Februar – 6. März 2022
Im Februar und März kommen die Birgminghamer Legenden NAPALM DEATH mit ihrem 2020er Studiodreher "Throes of Joy in the Jaws of Defeatism" im Gepäck auf Europatournee. Begleitet werden sie von der Crust-Legende DOOM, den Russen von SIBERIAN MEAT GRINDER und dem New Yorker Trio SHOW ME THE BODY.
Die deutschen Termine wie folgt, alle anderen gibts oben im Flyer:
03-Feb-22 Magdeburg-Factory (GER)
07-Feb-22 München-Backstage Werk (GER)
23-Feb-22 Nürnberg-Z-Bau (GER)
25-Feb-22 Leipzig-WERK 2 (GER)
26-Feb-22 Herford-X-Herford (GER)
01-Mar-22 Hamburg-Gruenspan (GER)
02-Mar-22 Oberhausen-Turbinenhalle (GER)
03-Mar-22 Lindau, Club Vaudeville (GER)
04-Mar-22 Mannheim-Alte Feuerwache (GER)
05-Mar-22 Berlin-Astra Kulturhaus (GER)