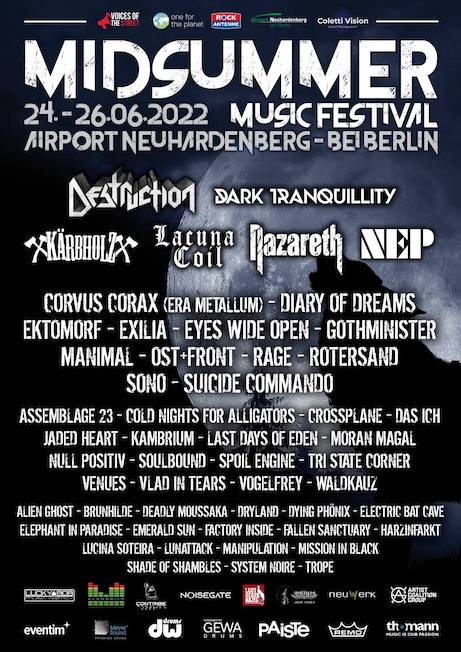 MIDSUMMER FESTIVAL 2022 – DESTRUCTION, NITZER EBB, LACUNA COIL, NAZARETH, DAS ICH u.v.m.
24. Juni – 26. Juni 2022
(bereits stattgefunden!)
Flughafengelände in Neuhardenberg (Bei Berlin)
Eine Mischung wie uns als Metal Und Gothic Magazin auf den sprichwörtlichen Leib geschneidert, bietet das MIDSUMMER FESTIVAL 2022 bei Berlin. Denn Metal und Gothic Acts in allen möglichen Varianten werden drei Tage lang den Flughafen in ein Schwarz-buntes Areal des Stilmixes verwandeln, bei dem alles vom Thrasher bis zum EBM Freund auf seine Kosten kommen kann.
Hier die Bands und ihre Running Order:
Freitag, 24.06.2022 Main Stage
Trope – Waldkauz – Luciana Soteira – Moran Magal – Fallen Sanctuary –
Vogelfrey – Last Days of Eden – Ektomorf – Dark Tranquility
Freitag, 24.06.2022 Dark Stage
Shade of Shambles – Alien-Ghost – System Noire – ROTERSAND – Sono –
Assemblage 23 – Diary of Dreams – Nitzer EBB.
Samstag, 25.06.2022 Main Stage
Dying Phönix –– Tri State Corner – Kambrium – Crossplane – Manimal –
Soulbound – Null Positiv – Ost+Front – Kärbholz – Destruction
Samstag, 25.06.2022 Dark Stage
Lunattack – Electric Bat Cave – Das Ich – Vlad in Tears – Gothminister –Suicide
Commando – Corvus Corax Era Metallum – Exilia
Sonntag, 26.06.2022 Main Stage
Harzinfarkt – Factory Inside –– Dryland – Brunhilde – Emerald Sun – Jaded
Heart – Mission in Black – Rage – Nazareth
Sonntag, 26.06.2022 Dark Stage
Manipulation – Deadly Moussaka – Elephant in Paradise –Cold Night for
Alligators – Spoil Engine – Venues – Eyes Wide Open – Lacuna Coil
Mehr Infos findet ihr auf https://www.midsummerfestival.net/