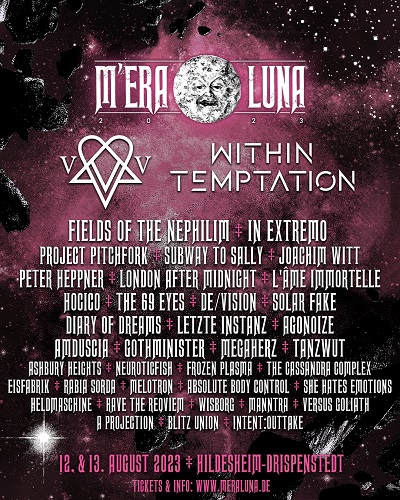 M'ERA LUNA 2023 – VILE VALO, FIELDS OF THE NEPHILIM, WITHN TEMPTATION u.v.m.
12. August – 13. August 2023
(bereits stattgefunden!)
Flugplatz in Hildesheim
Eines der größten deutschen Stelldicheins der schwarzen Szene in Deutschland findet am 12. und 13. August 2023 wie gewohnt in Hildesheim-Drispenstedt statt und meldet heute das Lineup für 2023 als komplett!
An der Spitze der Neubestätigungen des M´ERA LUNA Festivals stehen:
Ville Valo (VV / HIM)
Within Temptation
Fields Of The Nephilim
Tanzwut
Peter Heppner
L'Âme Immortelle
De/Vision
Megaherz
Manntra
und Diary Of Dreams
Die weiteren neuen Bands:
Agonoize, Amduscia, Ashbury Heights, Neuroticfish, Frozen Plasma, The Cassandra Complex, Eisfabrik, Rabia Sorda, Melotron, Absolute Body Control, Hocico, London After Midnight, She Hates Emotions, Heldmaschine, Rave The Reqviem, Wisborg, Versus Goliath, A Projection und Intent:Outtake.
Bereits zuvor bestätigt waren In Extremo, Project Pitchfork, Subway To Sally, Joachim Witt, The 69 Eyes, Solar Fake, Letzte Instanz, Gothminister und Blitz Union.
Alle Infos und Tickets findet ihr hier: https://meraluna.de/de/