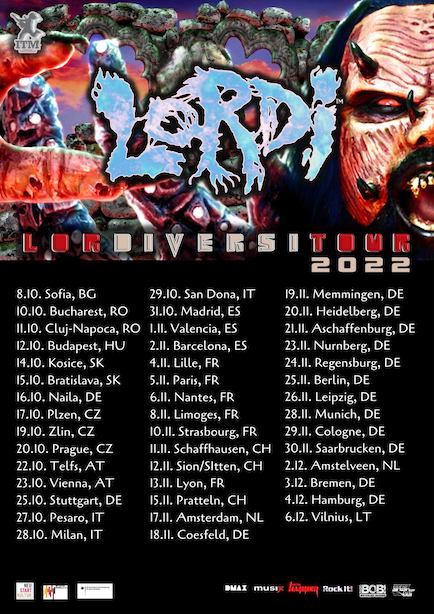 LORDI – "Lordiversitour" 2022
18. November – 4. Dezember 2022
(bereits stattgefunden!)
Unsere Lieblings Monster Metaller von LORDI geben nach etlichen Verschiebungen mal wieder ihre aktuellen Tourpläne bekannt. Der aktuelle Titel "Lordiversitour". Die Deutschlandtermine sind für November und Dezember angesetzt. Den Supportact geben DYMYTRY.
LORDIs Statement lautet:
"Postponement after postponement..
At last we can announce LORDIVERSITOUR hitting the roads of Europe starting October!
Are we excited? We are excited.
Tickets are already out!"
Die alten Tickets für die" Killectour" sind ebenfalls weiterhin gültig.
HIer die aktuellen Termine für die gesamte Europatour:
31.10.2022 ES-Madrid – Revi Live
01.11.2022 ES-Valencia – Rock City
02.11.2022 ES-Barcelona – Salamandra
04.11.2022 F-Lille – Le Splendid
05.11.2022 F-Paris – Alhambra
06.11.2022 F-Nantes – Warehouse
08.11.2022 F-Limoges – CC John Lennon
10.11.2022 F-Strasbourg – La Laiterie
11.11.2022 CH-Schaffhausen – Kammgarn
12.11.2022 CH-Sitten/Sion – Le Port Franc
13.11.2022 F-Lyon – Ninkasi Kao
15.11.2022 CH-Pratteln – Z7
18.11.2022 D-Coesfeld – Fabrik
19.11.2022 D-Memmingen – Kaminwerk
20.11.2022 D-Heidelberg – Halle 02
21.11.2022 D-Aschaffenburg – Colos Saal
23.11.2022 D-Nürnberg – Hirsch
24.11.2022 D-Regensburg – Eventhalle Airport
25.11.2022 D-Berlin – Hole 44
26.11.2022 D-Leipzig – Hellraiser
28.11.2022 D-München – Backstage
03.12.2022 D-Bremen – Tivoli
04.12.2022 D-Hamburg – Markthalle