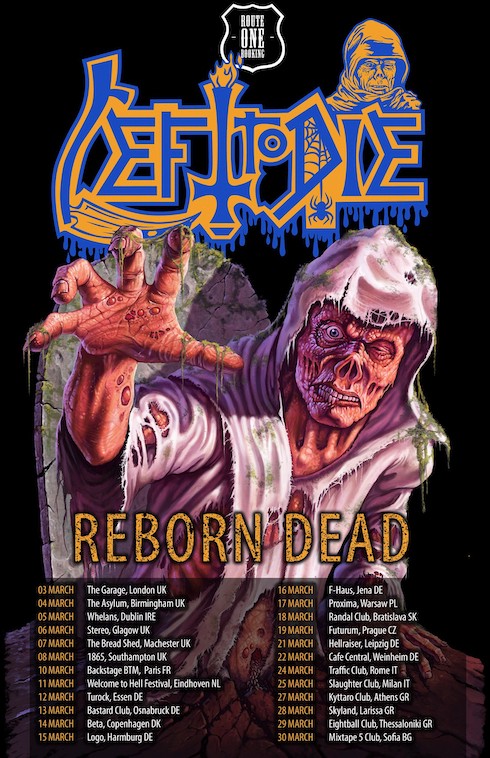 LEFT TO DIE – `Reborn Dead` Tour 2023
12. März – 22. März 2023
(bereits stattgefunden!)
Die beiden alten Death Member Rik Rozz und Terry Butler sowie die Death Jünger von GRUESOME Matt Harvey und Gus Rios haben Anfang des Jahres die Death-Resurrection Band LEFT TO DIE gegründet und in den USA bereits eine Tour gespielt. Im Frühjahr 2023  bringen sie die ersten beiden Death Alben 'Scream Bloody Gore' und 'Leprosy' auch in Europa auf die Bühnen und nenen das Ganze `Reborn Dead` Tour.
Die Band schreibt dazu:
"We are very pleased to announce that Left to Die will be bringing 'Leprosy' and 'Scream Bloody Gore' to the UK and Europe in March 2023.
Terry Butler had this to say about the upcoming tour – "It's such an honor to be playing Leprosy after all these years. It's been 30+ years since Rick and myself have rocked these tunes together and Matt and Gus are the perfect dudes to join us on this journey – huge Death fans and killer musicians."
Rick Rozz said "Old-school Death fans – prepare yourselves for total brutality! Thanks to Terry, Matt and Gus for making this happen."
Matt Harvey added "We had such a blast bringing old-school DEATH Metal to US audiences this past summer that coming to Europe was practically an inevitability. I'm humbled and beyond stoked to be able to help Terry and Rick keep the legacy of 'Leprosy' and 'Scream Bloody Gore' undead and rabid and I can't wait to unleash all the classicks and deep cuts on Europe!"
Begleitet wird die Old School Sause in Deutschland wohl von Britta Görtz Todestruppe HIRAES:
Hier die Termine für Deutschland, die anderen seht ihr auf dem Flyer:
Sun 12 Mar – Turock, Essen, DE
Mon 13 Mar – Bastard Club, Osnabruck, DE
Tue 14 Mar – Beta, Copenhagen, DK
Wed 15 Mar – Logo, Hamburg, DE
Thu 16 Mar – F-Haus, Jena, DE
Tue 21 Mar – Hellraiser, Leipzig, DE
Wed 22 Mar – Cafe Central, Weinheim, DE