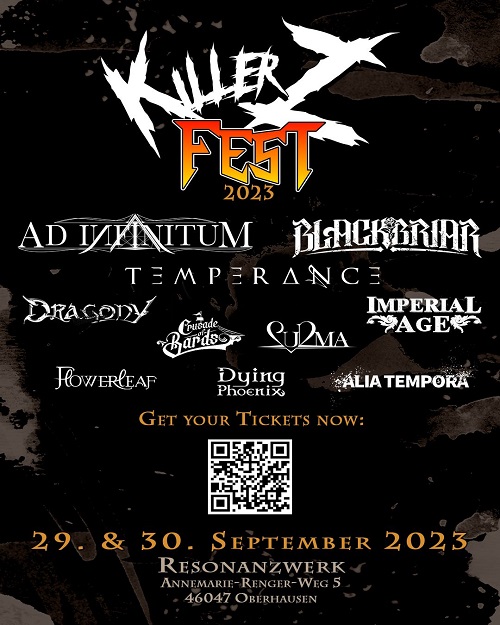 KILLERZ FEST 2023 – AD INFINITUM, BLACKBRIAR, TEMPERANCE, DRAGONY, CRUSADE OF BARDS, IMPERIAL AGE, u.v.m.
29. September – 30. September 2023
Am 29. und 30. September geht im Resonanzwerk Oberhausen die Premiere des "KILLERZ FEST" über die Bühne – zwei Tage große Symphonic und Power Metal Party! An der Spitze des Billings stehen die multinationalen Symphonic Metaller AD INFINITUM und die niederländischen Alternative Metaller BLACKBRIAR, zu deren gemeinsamer "The Euphonic Downfall" Tour 2023 der Festivalsamstag gehört, sowie die italienischen Modern Melodic Power Metaller Temperance. Außerdem dürfen sich die Fans unter anderem auf die spanischen Symphonic Pirate Metaller CRUSADE OF BARDS, die bekannte russische Oper Metal Truppe IMPERIAL AGE und die österreichischen Power Metaller DRAGONY freuen. Auch die Band SURMA um die tschechisch-ukrainische Sängerin Viktorie Surmova und Tyr-Mastermind Heri Joensen wird erwartet.
Die bisher bestätigten Bands in der Übersicht:
AD INFINITUM
BLACKBRIAR
TEMPERANCE
DRAGONY
CRUSADE OF BARDS
SURMA
IMPERIAL AGE
FLOWERLEAF
DYING PHOENIX
ALIA TEMPORA