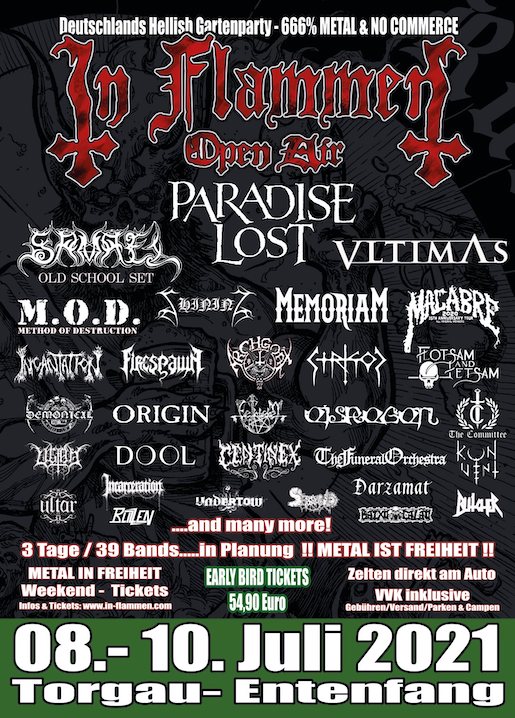 IN FLAMMEN Open Air 2021 verlegt auf 2022
7. Juli – 9. Juli 2021
(bereits stattgefunden!)
Torgau-Entenfang in Open Air Gelande
Verlegung von 2021 auf 07.-09.07 2022
Das neue Line-Up steht noch in den Sternen
Deutschlands "hellish Gartenparty" mit 39 Bands und drei Tagen Dauer hat für dieses Jahr ein mächtiges Lin-Up aufgefahren:
PARADISE LOST (UK)
VLTIMAS
MEMORIAM (UK)
SAMAEL (CH) – old school set!!
MACABRE (US)
INCANTATION (US)
SHINING (SWE)
FLOTSAM AND JETSAM (US)
STRIGOI (UK) – neue Band der Vallenfyre Jungs!
M.O.D. – Method of Destruction (US)
FIRESPAWN (SWE) – mit LG Petrov!
ARCHGOAT (FIN)
ORIGIN (US)
BETHLEHEM (D)
EISREGEN (D)
DOOL (NL)
THE COMMITTEE (BEL)
RUNEMAGICK (SWE)
MYSTIFIER (BRA)
DEMONICAL (SWE)
THE FUNERAL ORCHESTRA (SWE)
KONVENT (DK)
ULTHA (D) – EXCLUSIV eine von 2 Deutschland Shows in 2020!
NUMENOREAN (CAN)
ULTAR (RUS)
INCARCERATION (BRA/DE)
BÜTCHER (BEL)
VERHEERER (D)
SERRABULHO (POR) – portugals Grindcore Hochzeitsplaner No.1!
BAIXO CALAO (BRA)
DARZAMAT (PL) – Headliner des aller ersten IN FLAMMEN Open Air!
BLIZZEN (D)
UNDERTOW (D)
Banger, was willst du mehr?!
Weitere Infos und Tickets findet ihr auf https://in-flammen.com