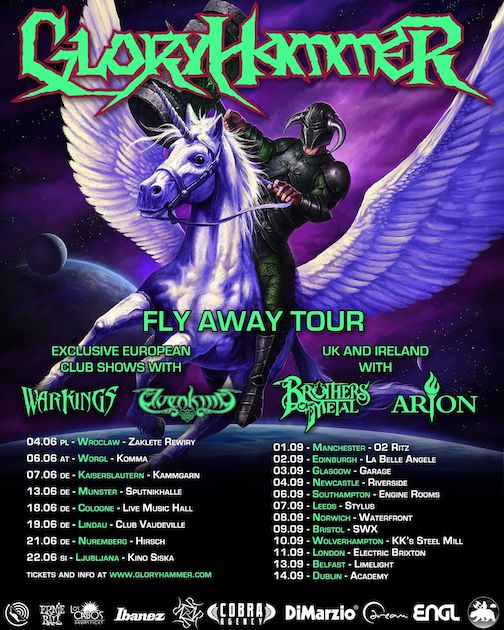 GLORYHAMMER, WARKINGS, ELVENKING –`Fly Away` Tour
7. Juni – 21. Juni 2022
(bereits stattgefunden!)
Die neu aufgestellten Outer Space Metalheads von GLORYHAMMER gehen im Juni bei uns auf `Fly Away` Tour. Mit von der Power Metal Party sind die WARKINGS und die Italiener ELVENKING.
GLORYHAMMER schreiben dazu:
"Mighty warriors of Germany, Austria, Slovenia and Poland! Our inboxes are ablaze with requests to perform in your countries! Our ears are deafened by heart-wrenching screams of woe and malcontent, crying 'When, oh, when, will Gloryhammer save us from this hideous boredom!?'  
And to this we respond… The shows are already booked!
Catch us this summer on a string of exclusive club events, with Germany's own Warkings and the legendary Elvenking from Italy as support!"
Hier die Termine für Deutschland, die weiteren seht ihr auf dem Flyer:
07.06.              Kaiserslautern            Kammgarn
13.06.              Münster                      Sputnikhalle
18.06.              Köln                           Live Music Hall
19.06               Lindau                        Club Vaudeville
21.06               Nürnberg                    Hirsch