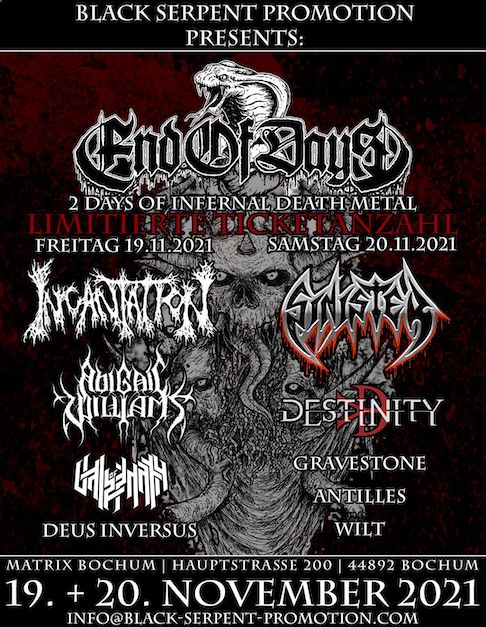 END OF DAYS Part II – INCANTATION, SINISTER, ABIGAIL WILLIAMS, DESTINITY u.a.
19. November – 20. November 2021
Matrix in Bochum
Nach dem versauten Jahr 2020 sind für den 19. und 20. November wieder "Brutalo-Tage" in der Bochumer Matrix angesagt. Das dritte END OF DAYS Festival wartet am Freitag mit DEUS INVERSUS, VALE OF PNATH, ABIGAIL WILLIAMS und dem Headliner INCANTATION auf. Für Samstag sind WILT, ANTILLES, GRAVESTONE, DESTINITY und die Niederländer SINISTER in der Pipeline um den Death Metal Fans gehörig die Rüber wegzufegen.
Tickets und T-Shirt Bundles findet ihr auf https://www.black-serpent-records.com/shop/