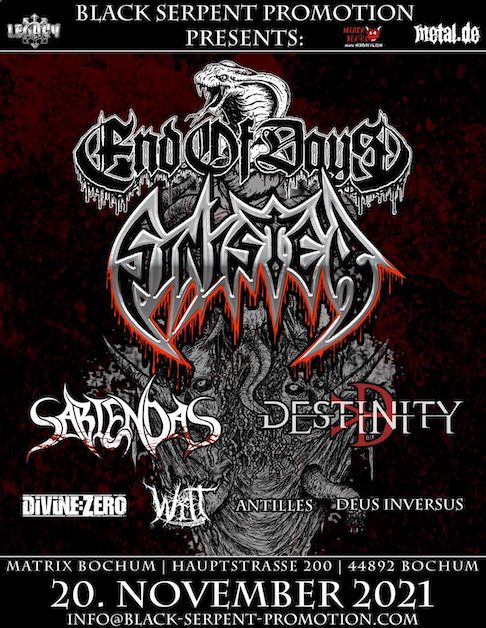 END OF DAYS Part II – SINISTER, SABIENDAS, DESTINITY, WILT u.a.
20. November 2021
(bereits stattgefunden!)
Matrix in Bochum
Die Pandemie ist noch nicht endgültig vorbei und das geht auch am Bochumer Death Metal Festival nicht spurlos vorbei. Dennoch sind nach dem versauten Jahr 2020 für den 20. November wieder "Brutalo-Tage" in der Bochumer Matrix angesagt. Das dritte END OF DAYS Festival wartet mit SINISTER, SABIENDAS, DESTINITY, WILT und anderen Acts auf, um den Death Metal Fans, die Rübe wegzuballern.
Hier die Message des Veranstalters zu den notwendigen Veränderungen:
"Wie ihr sehr hat es leider noch eine negative ,dafür aber auch positive Veränderungen gegeben,wir hoffen das euch das Line Up dennoch zusagt und ihr nun zahlreich die Tickets über die verschiedenen Känale besorgt.
Kurz zur Situation:
Aufgrund der derzeitigen ,wieder etwas lockeren Bestimmungen,  können wir nach 3G veranstalten, heisst Geimpft,Genesen oder Getestet!
Es wird natürlich keine Maskenpflicht geben sowie auch keine Platzzuweisung!
Augrund der gestiegen Bandzahl werden wir schon gegen 15 Uhr starten, damit wir dann auch so zeitig zum Ende kommen , das keiner angst haben muss seine S-Bahn zu verpassen.
Wir werden wieder eine Kleinigkeit für euer Leibliches wohl neben den üblichen Getränken anbieten."
Tickets und T-Shirt Bundles findet ihr auf https://www.black-serpent-records.com/shop/