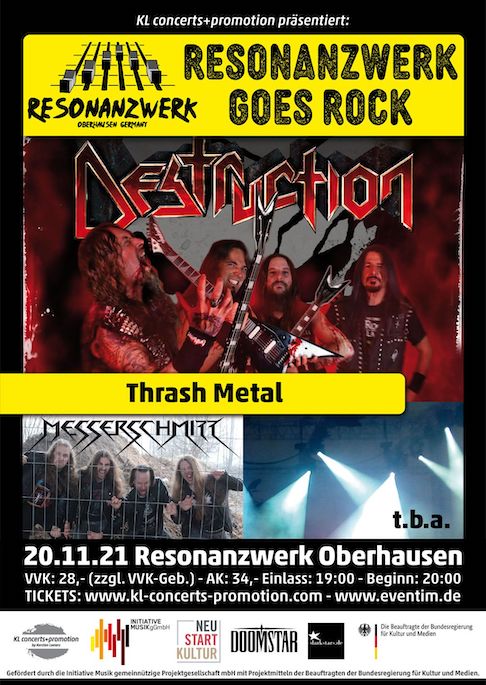 DESTRUCTION – "The Butchers Are Back" in Oberhausen (+ MESSERSCHMITT)
20. November 2021
(bereits stattgefunden!)
Resonanzwerk in Oberhausen
DESTRUCTION freuen sich auf die Rückkehr zu den Hallenkonzerten im November, nachdem zuletzt noch kurzfristig andere Shows abgesagt wurden. Die kürzlich neu aufgestellte Band verkündet:
"We are super stoked to announce the first indoor shows this autumn. The restart in three countries, three great venues and hopefully three amazing shows with YOU! Please help us to support and spread the news – promoters and fave venues who take the risk in these weird times, for sure need to be backed up by the fans, music lovers and concert-freaks."
Als bisher einzigen Deutschlandgig haben sie das Resonanzwerk Oberhausen bestätigt, wobei MESSERSCHMITT und ein weiterer, noch nicht genannter Act als Support verpflichtet wurden.