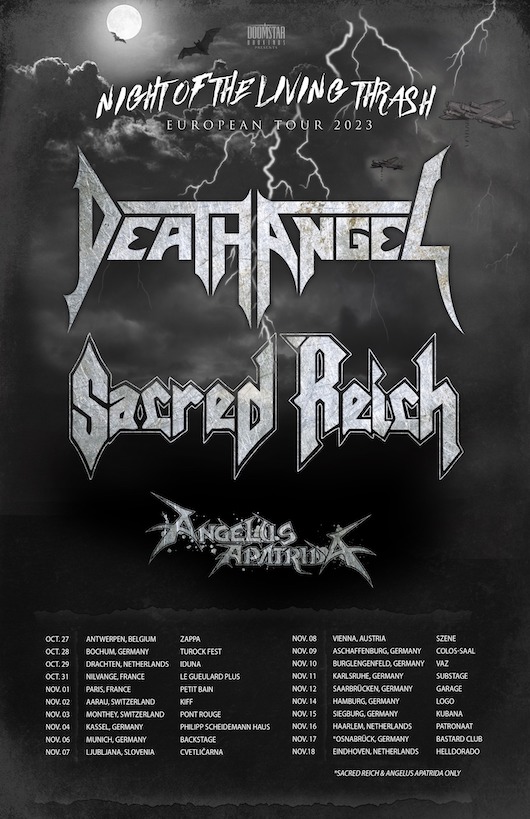 DEATH ANGEL & SACRED REICH – "Night Of The Living Thrash" Tour 2023
4. November – 17. November 2023
Die Thrash Schwergewichte von DEATH ANGEL und SACRED REICH geben eine gemeinsame Co-Headlinertour für den Herbst 2023 bekannt.  Unter dem Titel "Night Of The Living Thrash" ziehen sie im Oktober und November durch die deutschen und europäischen Hallen. Dabei haben die beiden Headliner noch die ANGELUS APATRIDA als Supportact im Schlepptau, die die Thrashparty komplett machen.
DEATH ANGEL Sänger Mark Osegueda erklärt:
"Death Angel is excited to share the news that we are coming back to Europe this fall!
We are doing a co-headlining tour with our friends in Sacred Reich!
We have played shows together.. however, this is actually the first time ever that we have toured together!
This is going to be an epic thrash event, night after night, and we can't wait! Rounding out the bill is Angelus Apatrida!
So.. get there early because all three bands are going to bring it from the moment the lights go down!
This is a show not to be missed!
We'll see you in the pit!
Cheers!"
SACRED REICH Fronter Phil fürgt hinzu:
"We are excited for this killer old-school tour with Death Angel!
I think the fans are going to have a great time with two headliner sets of OG thrash! I think Death Angel is one of the great live bands around.
Along with special guests Angelus Apatrida, it will be an awesome night of head-banging, stage diving and pits. See you there!–
 Peace,Phil"
eben den Einzelgigs nehmen auch alle drei bands am Turock Fest in Bochum Teil.
Die jetzt bestätigten Termine seht ihr hier:
27.10.23 – Antwerpen (BE) – Zappa
28.10.23 – Bochum (DE) – Turock Fest
29.10.23 – Drachten (NL) – Iduna
31.10.23 – Nilvange (FR) – Le Gueulard Plus
01.11.23 – Paris (FR) – Petit Bain
02.11.23 – Aarau (CH) – Kiff
03.11.23 – Monthey (CH) – Pont Rouge
04.11.23 – Kassel (DE) – Philipp Scheidemann Haus
06.11.23 – Munich (DE) – Backstage
07.11.23 – Ljubljana (SI) – Cvetlicarna
08.11.23 – Vienna (AT) – Szene
09.11.23 – Aschaffenburg (DE) – Colos-Saal
10.11.23 – Burglengenfeld (DE) – VAZ
11.11.23 – Karlsruhe (DE) – Substage
12.11.23 – Saarbrücken (DE) – Garage
14.11.23 – Hamburg (DE) – Logo
15.11.23 – Siegburg (DE) – Kubana
16.11.23 – Haarlem (NL) – Patronaat
17.11.23 – Osnabrück (DE) – Bastard Club*
18.11.23 – Eindhoven (NL) – Helldorado
* Sacred Reich & Angelus Apatrida only